On 23rd May, 2017, Paolo Sironi, an iconic global thought leader for IBM Global, visited SP Jain Dubai and shared key insights related to FinTech innovation with the PG students.
A strong endorser of strategic innovation with a decade-long risk management expertise, Paolo Sironi shared his knowledge as he combined his expertise in financial services, technology, wealth & asset management, and Fintech innovation.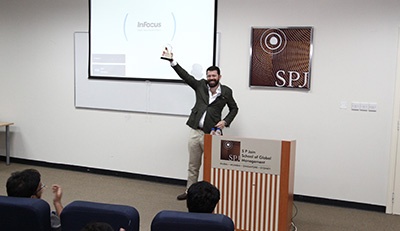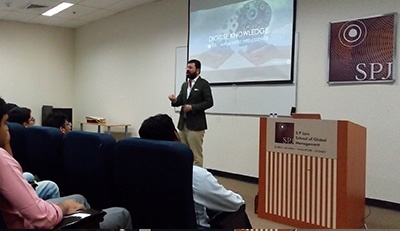 Global investment in Financial Technology (Fintech) ventures clearly signifies that the digital revolution has arrived in the financial services sector. Established financial services players are starting to take bold steps to engage with emerging innovations. The session discussed financial technology and its growing impact on the global banking industry and introduced the concepts of wealth management, portfolio management, risk management, and digital advisors, better known as Robo-Advisors.
The session also covered how Fintech provides benefits for its various customers and how it brings more transparency to an increasingly complex ecosystem, where investors need more granular understanding of a venture, and where entrepreneurs need relevant feedback. FinTech has a bright future and traditional financial institutions need to constantly innovate and diversify to mitigate the risk of being played out by their competitors.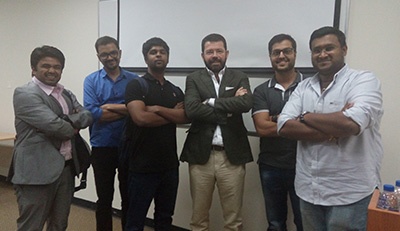 "I think the key takeaway from the session was the value and the constant innovation, business models and emerging technologies can transform the financial service industry. With many new technologies and start-up companies exploring FinTech technology, it's certainly going to be an interesting industry to watch over the next several years." -Parul Maheshwari, Student, MGB '17
About the Speaker
Paolo Sironi possesses a decade-long risk management expertise; he was previously head of market and counterparty risk modeling at Banca Intesa Sanpaolo. He is the author of best sellers: "FinTech Innovation: from Robo-Advisors to Goal Based Investing and Gamification" (Wiley 2016) and "Modern Portfolio Management: From Markowitz to Probabilistic Scenario Optimisation" (RiskBooks, 2015). Paolo has participated as a key speaker in many international conferences and leading universities to share his views on innovation & financial technology.