Adapt to different business environments, cultures & market conditions. Immerse in new cultures, step out of your comfort zone, develop cross-cultural understanding, gain real-world experience and engage some of the world's top companies with our Master of Global Business (MGB) program. Designed exclusively for graduates with little or no work experience, the program trains you to appreciate and adapt to different business environments, cultures and market conditions, preparing you for a lifetime of decision-making and leadership.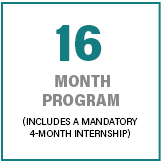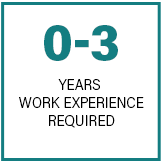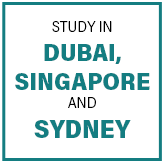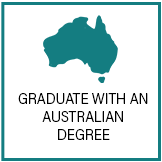 In the last seven years of our short but decorated fourteen-year-old history, SP Jain and its programs have been ranked by reputed international publications. Our 1-year Global MBA program has been ranked by three of the world's top four MBA rankings – Forbes, Financial Times and The Economist. In each of these rankings, we are amongst the youngest schools featured – an accomplishment we attribute to our unique and innovative model of business education.
Understanding the global business environment is key to business success, and at SP Jain, students learn this by living and studying in a minimum of three international cities.
So in addition to learning the various tools of business (like most university graduates), our students understand the global nature of business in the most compelling way – through actual exposure to diverse cultures, political beliefs, traditions and technological innovations.
In addition to living and studying in some of the world's top economic centres, our students participate in special global learning classes where business frameworks are studied and tested.
They interact with local companies and conduct real-time application-based projects that help them really understand the interconnected nature of business, the influence and impact of culture on consumer preferences and business decisions, global collaboration and best practices, and the risks of stepping out of one's home country.
In addition to the global knowledge gained, students learn to be adaptable, multicultural and globally relevant to companies of the 21st century.
The Master's degree that you are pursuing has to prepare you to make critical decisions. After all, decision-making is the lifeblood of a business manager. At SP Jain, students learn to master this skill uniquely – through the use of highly advanced computer-aided simulations.
These simulations are embedded in the program curriculum and conducted over the course of the program, resulting in graduates who are able to think on their feet and make quick, smart decisions from the get-go.
The internship is an important element of the MGB program. That's because it offers students, with little or no experience, the opportunity to supplement their academic accomplishments with real-life experience, make meaningful contributions to companies, build strong professionals contacts and explore full-time career opportunities. Over 60 percent of students from our MGB Intakes of 2016 converted their internships to full-time careers.
PROGRAM CURRICULUM & STRUCTURE
We don't believe in a 'one-size-fits-all' approach. That's why, as a postgraduate student at SP Jain, you will be engaged and motivated using a wide variety of teaching tools like simulations, online lessons, decision-making laboratories, global immersion exercises, guest lectures, industry sessions, research projects, student boardrooms and interactive discussions.
A vibrant new feature of the postgraduate curriculum is the introduction of a Blended Model of Learning. Conventional MBA programs are made of a combination of knowledge-centric courses and their application in the real world. SP Jain's recently revamped postgraduate curriculum, on the other hand, uses advanced online tools (like webinars, multimedia lessons, problem solving sessions) to deliver foundational and knowledge-based courses to students. It is believed that the discipline of online learning enhances learning agility (the ability to self-learn) and better retention of business fundamentals since students learn at a pace that suits them.
On campus, the focus is on more advanced application-based topics that teach students to:
Ask the right questions to frame issues
Use the right tools to analyse data
Synthesise information to create value
Innovate using Design Thinking
Use digital technology to develop high quality solutions, and
Add value to future employers
To fulfil the requirements of the MGB program, students must complete 41 credits.
| | |
| --- | --- |
| SUBJECTS | CREDITS |
| CORE COURSES | 23 |
| SPECIALISATIONS | 12 |
| GLOBAL IMMERSION PROJECT | 6 |
| TOTAL | 41 |
The program includes 4 months of academic study at each of our 3 campuses + a mandatory 4-month internship.
In the initial term of the program, students build on their experience and gain a solid foundation in business through core courses in general topics of management like Economics, Finance, Statistics and Marketing. These courses are common and are required for all students, irrespective of their areas of specialisation.

Industry experts believe that management takes place on two levels: cross-functional and vertical, and we reflect this by offering students a range of specialisations that equip them with the knowledge and specific tools that their future careers will demand.
The following specialisations will be offered to students:
Contemporary Marketing Management
Global Finance
Global Logistics & Supply Chain Management
E-business (Only for September Intake)

EMPLOYABILITY & GLOBAL CAREERS
PLACEMENT UPDATES: CLASS OF MAY 2018
Full-time placement updates for the recently graduated Class of May 2018 are provided below:
Highest CTC: INR 32.25 lakhs
Average CTC: INR 19.65 lakhs
Top Recruiters: Mirai Health, Protiviti Enhance, Coca-Cola, Unilever, Redington Gulf, Kaltenbach, Khind, Arabian Healthcare Group, Sharaf Retail, DNOW, CEO Clubs, Britannia, Fetchr, Westcon, Kuehne + Nagel, Duff & Phelps, Nielsen, Strebl Energy, Graymatics, Credit Suisse, Dentsu Aegis, Edelweiss Financial Services, IIFL, Total eBiz Solutions, Reckitt Benckiser, Geodis Wilson, MoolahSense, Cummins, Blue Wireless, Zen Rooms, OTIS, IKEA, Sapphire Foods, Dunia Finance, Al Naboodah Group, Landmark Group, Yes Bank, HP and Motilal Securities
SECTOR-WISE PLACEMENT UPDATES:
| | | |
| --- | --- | --- |
| Specialisation | Highest CTC (INR) | Average CTC (INR) |
| Global Finance | 32,25,658 | 21,86,752 |
| Contemporary Marketing Management | 26,81,392 | 18,38,913 |
| Global Logistics & Supply Chain Management | 27,46,856 | 20,19,557 |
*E-business was not offered as a specialisation to students joining the May 2017-18 intake.
REGION-WISE PLACEMENT UPDATES:
| | | |
| --- | --- | --- |
| Region | Highest CTC (INR) | Average CTC (INR) |
| Southeast Asia | 32,25,658 | 28,56,566 |
| Middle East | 27,46,856 | 24,03,427 |
| India | 18,65,988 | 14,35,654 |
CLASSES OF 2016-2017
Full-time placement updates from the Intakes of 2015 that graduated in 2016/17 are provided below:
Over 94% of students received internship offers from companies based in Middle East and Southeast Asia.
Average CTC: INR 18.16 lakhs
Top recruiters of the season were Credit Agricole, Deloitte, Genpact, Smytten, Fintelix, UBS, Enhance, Bayt.com, Agility Logistics, Al Seer group, Stanley Black & Decker and Kuehne + Nagel.
A unique feature of the MGB program is the
GLOBAL IMMERSION PROJECT
. Undertaken in each of the three terms of the MGB program, the Projects are directed towards creating a higher degree of exposure to real corporate environments.
The idea is to enhance the employability and professional readiness of students, and this is achieved by helping them assimilate a body of knowledge and testing it in live situations. Barclays, Citibank, DAMCO, Ernst & Young, Deloitte, PepsiCo, Shell Marine, KPMG, HCL, MasterCard and Lenovo are some of the companies that have in the past hosted our students for Global Immersion Projects.
Employers in virtually every field seek two key skills in their employees: leadership and communication. SP Jain's strong focus in these areas gives its students an edge in the workforce. The P2E program emphasises all aspects of leadership including personality development and decision-making. Not only are graduates well prepared to maintain strong leadership roles within their companies, but also to make a strong impact on their communities.
Besides leadership skills, in the P2E program, students learn:
Effective business writing including how to analyse situations to determine the most appropriate method of communication, tone, and level of formality.

Oral communication including interviews, group discussions, presentations, spontaneous conversations, persuasive/dissuasive arguments and e-communication.

Increased fluency in English to better perform in a global, English-speaking business environment.

Communication management including theory, conflict resolution, and crisis communication.

Research and citation skills for better, results-oriented reporting.

Understanding the job interview process from both sides of the desk. Knowledge of how interviews are conducted will not only help executives with their own recruiting, but also the interviewees to prepare correctly for and overcome nervousness in interviews.
Internship updates for the Intakes of 2015 - 2016 are provided below:
Nearly 84% of students received offers of internships from companies based in Middle East and Southeast Asia.
16% of offers were made by top companies in India.
The FMCG and E-commerce sectors dominated the recruitment drive this season, accounting for over 36 percent of total offers made.
Consulting, IT and Logistics were a close second.
Genpact, HP, Heinz, Bayt.com, Agility Logistics, Kimberly Clark, Bosch, NOL and Apparel Group were the top recruiters this internship cycle.
ADMISSION ROUNDS & DEADLINES
Admissions are open to the September 2019 and January 2020 intakes.
Information on upcoming admissions rounds is provided below:
| | | | |
| --- | --- | --- | --- |
| | ROUND 1 | ROUND 2 | ROUND 3 |
| APPLICATION STARTS | OPEN | April 30, 2019 | June 11, 2019 |
| APPLICATION DEADLINE | April 29, 2019 | June 10, 2019 | July 15, 2019 |
| CALL FOR INTERVIEWS | May 3, 2019 | June 14, 2019 | July 19, 2019 |
| INTERVIEW DATES | May 11-12, 2019* | June 21-26, 2019 | July 23-28, 2019 |
| OFFER LETTER | May 20, 2019 | July 2, 2019 | August 2, 2019 |
| LAST DATE TO PAY INITIAL REGISTRATION FEE | May 27, 2019 | July 9, 2019 | August 9, 2019 |
| FULL FEES PAYMENT | July 15, 2019 | July 31, 2019 | August 16, 2019 |
*Please Note: Personal Interviews will be conducted in Mumbai, Delhi and Bengaluru on either of the dates
SELECTING AN APPLICATION ROUND:
You may apply to any one of the three application rounds. However, you may apply only once per intake.
While competition for each of the rounds is equal, the earlier you gain admission, the more time you have to secure financing, housing and settle other logistical matters.
PG Info-Session Schedule
Dates
Day
Location
Venue
Time
25th May 2019
Saturday
Mumbai - Powai
The Beatle, JMJ House, Orchard Ave, Hiranandani Gardens, Panchkutir Ganesh Nagar, Powai.
6:00 PM - 8:00 PM
26th May 2019
Sunday
Mumbai - Lower Parel
SP Jain Campus, 1st Floor, Trade Point, Kamala Mills, Lower Parel.
5:00 PM - 7:00 PM
26th May 2019
Sunday
Mumbai - Andheri
The Club, Shakti Nagar, Shanti Nagar, D.N.Nagar, Andheri West.
11:00 AM - 1:00 PM
8th June 2019
Saturday
Goa
Vivanta Panaji, St. Anne's Junction, Off, Dayanand Bandodkar Marg, Panaji, Goa.
6:00 PM - 8:00 PM
TBA
TBA
Bhubaneswar
TBA
TBA