Business students, every day, witness how the current business atmosphere is changing and how essential it is to be able to adapt to it. Every sphere of life has become digitally transformed, from education to business. On the 28th of June, 2017, Mr. Faisal Ameer Malik, the Chief Technology Officer of Huawei Technologies Enterprise, delivered a session titled 'the Era of Disruption'.
Mr. Faisal started his engaging speech with a brief overview of his roles and achievements, inspiring the students to, in his own words, "choose the right path, not the easy one". Students gained perspective on industry trends in the technology sector as he shed light on the fact that in a world where technological innovations become redundant in a day, Huawei has managed to not only adapt to the changing business atmosphere but also lead in through technological innovation. He further explained how Huawei's success is attributed to the fact that the company is able to think beyond the immediate future and encouraged the audience to do the same at every level possible.
The students were able to understand the upcoming technological trends in the industry which included artificial intelligence, big data, augmented reality, block chain, drone, and robotics technology and how each trend will transform the way business is conducted. This talk provided value to students in terms of clarity in career management and it gave students food for thought because as future business leaders, understanding how technology can affect and improve businesses is imperative for success in today's world.
About the speaker
Faisal Ameer Malik
CTO, Huawei Technologies Enterprise Business Group ME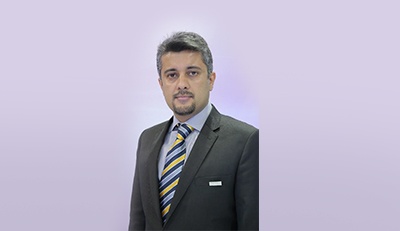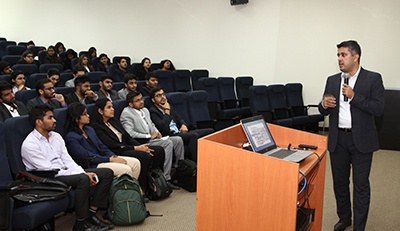 As Chief Technology Officer, Faisal is responsible for the successful alignment and implementation of Huawei's Middle East business strategy and technology vision. He leads all aspects of developing and executing technology initiatives to grow Huawei's presence in the region. In his past 11 years at Huawei, Faisal has been part of both Carrier Solution Sales and Enterprise division and is deeply involved in the various industry driven ICT transformation projects at the company.
With more than 16 years of experience in the ICT sector, Faisal holds expertise in technology domains of IP Networks, Transmission, Wireless & Wireline Broadband, Unified Communication Systems, Surveillance & Security networks, IT & DC solutions. Prior to joining Huawei, Faisal led numerous ICT transformation projects of national scale at multiple organisations across Middle East region.