Three students from SP Jain School of Global Management's Master of Global Business (MGB) May 2019 cohort – Archit Dhawan, Kamran Wani and Aman Aggarwal – have successfully published a case study titled 'Optimise your route algorithms with accuracy and celerity with elastic route' with The Case Centre, Cranfield University, UK. The case study and the teaching note are now listed in The Case Centre's collection – the case with reference 520-0138-1 and the teaching note with reference 520-0138-8.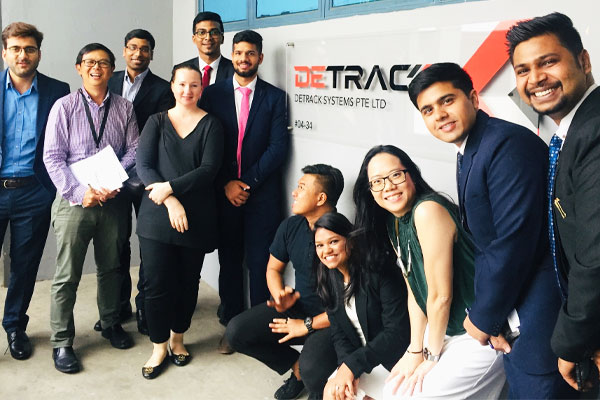 (This photo was clicked before the COVID-19 pandemic)
The case study was based on the students' Industry Interface Project with our corporate partner Detrack Systems and completed under the guidance of Dr Tristan Chong (Associate Professor and Area Head of Marketing, SP Jain) and Irina Pismennaya (Senior Manager – Academics, SP Jain).
Special thanks to Fanny See (COO, Detrack Systems) and her team for providing our students with this enriching learning opportunity.
"For a technology to be implemented successfully by businesses, it is essential to bridge the gap between the stumbling blocks caused by the steep learning curve of a new software, long implementation time for IT Projects and resistance on the ground towards technology adoption," shares Ms See.
Industry Interface Projects at SP Jain offer a multidisciplinary learning experience for our students, academic staff and corporate partners to solve complex business challenges.
About The Case Centre:
The Case Centre is the world's largest and most diverse collection of management cases, articles, book chapters and teaching materials. It is a not-for-profit organisation dedicated to advancing the case method worldwide, sharing knowledge, wisdom and experience to inspire and transform the global business education across the globe.