We are thrilled to announce the impressive career outcomes for graduates from our Bachelor of Data Science (BDS) program.
Our BDS Class of 2022 has produced many success stories, with graduates securing jobs at starting salaries ranging from AUD 78,000 to AUD 120,000 in Australia. For students who opted for placements in India, salaries ranged from INR 22 lakh to INR 36 lakh. A handful of students received offers from companies based in Vietnam, while several others were accepted for higher studies at reputed universities in the US, Canada, UK, France and Australia.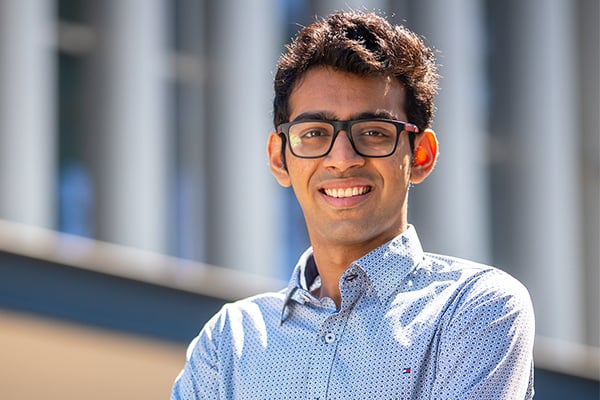 On completing the BDS program last year, Vedant Kabra landed a highly coveted role with the Macquarie Group in Sydney, Australia. Vedant is one of our many graduates building successful careers in data science.
Graduates of this class received offers from various organisations, including Fortune 500 companies, technology start-ups and government agencies. Some notable companies that have hired these graduates include Macquarie Group, Amazon, Wolters Kluwer, EdgeRed Analytics, Integrity Solutions, NSW Government (Grad Program), Viettel Big Data Analytics Center, OCB Bank, Savills Vietnam, and ITR Vietnam.
The rigorous program curriculum and a strong emphasis on skill development resulted in a remarkable 100% employment rate within six months of graduation. Several of these full-time offers resulted from successful internships in the companies.
"The Bachelor of Data Science program at SP Jain is designed to equip students with a comprehensive understanding of data analysis and the skills necessary to tackle complex business problems by effectively leveraging both quantitative and qualitative data. We are thrilled to see the remarkable success of our graduates and their impressive job offers from leading companies in the technology and e-commerce sectors," shared Dr Abhijit Dasgupta, Director of the BDS program at SP Jain.
"The curriculum at SP Jain is designed to keep pace with the fast-evolving digital landscape, and the participation of industry professionals from the technology sector demonstrates our commitment to providing a cutting-edge education. The high starting salaries our graduates have secured, which is way above the median graduate salaries in the respective geographies, are a testament to the efficacy of our program and showcase the core skills and aptitudes that employers demand and appreciate."
One of the significant highlights of this program is that it offers students a variety of opportunities to intern and gain real work experience with top companies and universities even before they graduate. Students of the program have previously interned at Adaptive Investments (US), the University of Massachusetts at Boston (under the guidance of renowned professor Dr Lawrence Pohlman), AI Australia (Sydney), VP Bank (Vietnam), Johnson & Johnson (Sydney), Instagram, Facebook, ISI, NITIE, Edify Accelerator, IIT Kharagpur, IIT Bombay and other top US and European universities.
"I did an internship with The University of Massachusetts and another one with HDFC ERGO, where I was a Data Science intern. One thing that SP Jain has always focused on, right from the beginning, is looking at real-world business problems and solving them, even in class. So, when I started my internship, I found it very easy to understand their workflow model and acclimatise because the kind of business problems I was solving at work was on the same lines as the ones I was solving in class," shared Vedant Kabra from the Class of 2022. On completing the BDS program last year, Vedant landed a highly coveted role with the Macquarie Group in Sydney, Australia. (Watch Vedant share his student journey and placement experience)
The notable employment success of our BDS graduates has been featured in publications such as Times of India, The Hindu BusinessLine, Careers360, Pagalguy, Easy Shiksha, and India Education Diary.
Discover more success stories of our Bachelor of Data Science graduates.
The BDS is a futuristic three-year multi-city program accredited by the Australian government's Tertiary Education Quality & Standards Agency (TEQSA). Students can opt to study in Mumbai (Year 1) and Sydney (Years 2 and 3) or complete all three years of the program in Sydney. Upon graduation, students may continue to live and work in Australia by applying for a post-study work visa* of up to four years.
The program curriculum is designed to provide a strong foundation in the principles and techniques of data science, programming and analytics, machine learning, simulation modelling, data mining, social web analytics, and big data processing techniques and platforms. The program is open to Grade XII students and is ideal for those with an aptitude for math and science.
Learn more about our Bachelor of Data Science program.

*International students may be able to continue to live and work in Australia temporarily following the completion of their Bachelor of Data Science degree at SP Jain. While graduating students can apply for a post-study work visa of up to four years per the current immigration guidelines, it is not a guaranteed program outcome. Please check the Australian Government's Department of Home Affairs website regularly for eligibility, more information and updates.