DASCA certifications are among the world's most powerful set of qualifications for Data Science professionals and SP Jain has joined the league of leading DASCA-accredited institutions like Columbia, Cornell, Duke, Harvard and Stanford.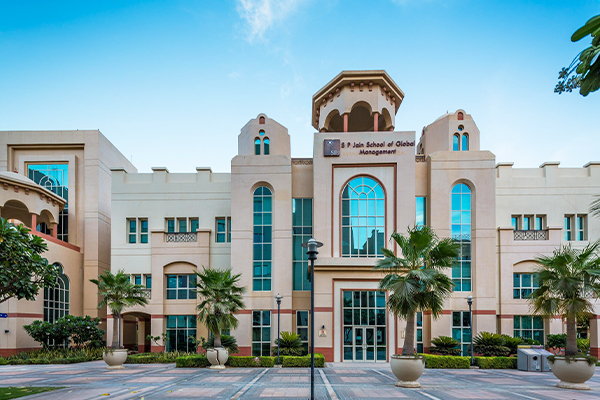 SP Jain's Dubai campus
SP Jain School of Global Management has been accredited by the Data Science Council of America (DASCA) based on the strength of its Data Science programs, effective January 2020. DASCA is one of the world's leading standards and credentialing bodies for the Data Science profession. With this credential, SP Jain has joined the global network of world-renowned educators to be DASCA-accredited including Columbia, Cornell, Duke, Harvard and Stanford.
What does the DASCA accreditation mean for SP Jain students?
This accreditation enables SP Jain's students to take the DASCA certifications for Big Data Engineering, Big Data Analytics and Data Scientists.
DASCA-credentialed students demonstrate a complete understanding of the latest Data Science techniques, tools and concepts to manage and harness Big Data across verticals, environments and markets.
A DASCA certification recognises a student's competence in Data Science/Big Data Analytics/Big Data Engineering and sets them apart from the rest, enhancing their employability.
Not only will SP Jain's Data Science students benefit from the DASCA certifications, but students from any program, as well as the School's staff, can take these certifications to upskill themselves and stay relevant.
About DASCA
The Data Science Council of America (DASCA) researches, designs and builds platform-independent Data Science knowledge frameworks, standards and credentials, and certifies individuals entering or working across the spectrum of emerging Data Science professions. The primary goal of DASCA today is to constantly strive to refine and optimise the numerous roles and jobs in the Big Data/Data Science space into concrete, sharply defined professions.
DASCA credentials, approaches, initiatives and programs work toward developing high-quality professionals to address the challenging expectations of Big Data stakeholders internationally. Big Data Engineers, Big Data Analysts and Data Scientists credentialed by DASCA form the world's top-league of the best-bred Data Science professionals.
Increase in demand for Data Scientists
Speaking about the rising interest in the field of data science, Dr Abhijit Dasgupta, Director – Data Science programs, SP Jain, shares, "Data Science is the new Engineering as the world has moved from the Industrial era and runs on data today. For three years in a row, data scientist has been named the number one job in the US by Glassdoor. What's more, the US Bureau of Labor Statistics reports that the rise of data science needs will create 11.5 million job openings by 2026. Data science experts are needed in virtually every job sector – not just in technology. In fact, the five biggest tech companies — Google, Amazon, Apple, Microsoft and Facebook – contributing to over 52% of the world's market capitalisation globally, are one of the biggest employers of data scientists and engineers. In order to break into these high-paying, in-demand roles – an advanced education in Data Science is required."
SP Jain's Bachelor of Data Science (BDS) students have the opportunity to pursue the program in Mumbai and Sydney and graduate with an Australian degree. Being an emerging global hub for Data Science jobs, Australia also boasts of a safe, stimulating and highly dynamic environment for students. On completing the degree, you may be able to live and work in Australia by applying for a post-study work visa. The post-study work visa is not a guaranteed outcome of the program. For more information on the conditions to be granted this visa, please visit the Australian Government's Department of Home Affairs website.
The three-year intensive undergraduate program provides the students with strong foundation in Mathematics, Statistics, Programming, Machine Learning, Artificial Intelligence, Visual Analytics, Cloud Engineering and Big Data Engineering, among other verticals, which in turn enables them to build a career with the world's premier data science hubs, IT and Analytics firms in the world. During the program, students are equipped with various skills such as strategy development, improving operational efficiencies, reducing costs and terminating risks, thereby learning to add real value to a company. Students also gain access to SP Jain's new Disruptive Technologies Lab in Sydney where they undertake practical projects.
Leading publications including The Hindu Business Line, Bloomberg, Times of India, India Today, The Week, Yahoo News, Business Today, PTI, Shiksha and The Education Times have featured the School's DASCA accreditation and highlighted how the BDS program can help students prepare for their dream career in data science.