SP Jain School of Global Management is delighted to announce the winners of the inaugural President's Faculty Excellence Awards for the year 2020-21. The selection panel consisted of the Chair of the Board of Directors, the Chair of the Academic Board and the Vice President – Academic. Please join us in congratulating the winners!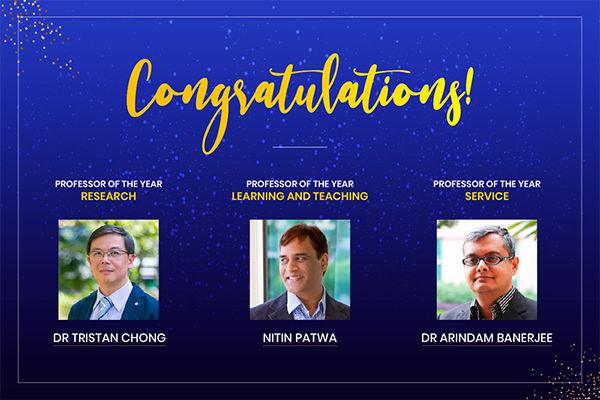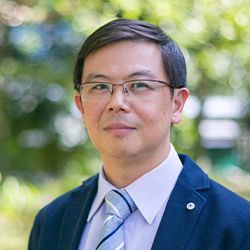 Professor of the Year – Research
DR TRISTAN CHONG
Associate Professor and Area Head of Marketing, SP Jain
Dr Tristan Chong has been recognised for the breadth and depth of his research activities.
Publications:
He has published one A* and two A-ranked articles, three conference papers, and two case studies in 2020-21.
Collaborations:
He has published two case studies with Dr Balakrishna Grandhi, Irina Pismennaya, Sanjukta Srivastava and several postgraduate students. He is working on two more cases to be published soon. He is also working closely with Dr Muniza Askari, Dr Smitha Sarma Ranganathan and Dr Monica Chaudhary on several projects along with our Doctor of Business Administration (DBA) scholars.
He is collaborating with scholars from the USA (Temple University), Australia (Deakin University), Belgium (KU Leuven), Mainland China (Sun Yat-sen University, Fudan University, Chongqing University), Taiwan (Tamkang University, National Taiwan University of Science and Technology), Hong Kong (University of Hong Kong), Singapore (National University of Singapore), South Korea (Yonsei University), France (Université Lille 1) and UK (Liverpool University, Aston University, Swansea University and Nottingham University).
Besides, he has been invited to join two international research groups:
Cyber Analytics Research Centre with leading scholars from Australia, China, Indonesia, Malaysia, Pakistan, Singapore and the UK.

Smart Mobility Analytics Centre with leading scholars from China, USA, UK, the Netherlands and Singapore.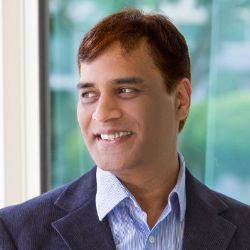 Professor of the Year – Learning and Teaching
NITIN PATWA
Associate Professor, Director – Simulation and Deputy Director of Undergraduate Programs, Dubai, SP Jain
Nitin Patwa completed an incredibly high volume of teaching during the 2020-21 academic year. He taught 38 credits, and his average student feedback exceeded 9.
He taught in all our major programs, ranging from small to large classes, and covered a variety of subjects (10 different subjects in all). He also spearheaded activities that supported both faculty and students, including assisting students at risk by conducting close to 50 hours of additional tutorials.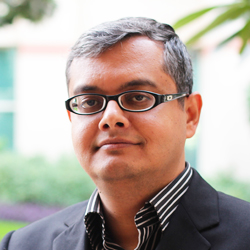 Professor of the Year – Service
DR ARINDAM BANERJEE
Associate Professor and Deputy Director – Global MBA & Master of Global Business, SP Jain
Dr Arindam Banerjee led several successful projects, above and beyond his role, that brought recognition and brand awareness to SP Jain in 2020-21. In addition to the virtual roadshows and stellar student recruitment, he conceived, designed and executed the undergraduate summer program, initiated partnerships that provided scholarships for our students, offered his advice on pre-learning videos (finance) and contributed brand-building media pieces.
He also taught a large volume of courses with his average feedback well over 9 and his performance as Deputy Director of Global MBA and Master of Global Business received student feedback exceeding 9.
We are proud of our faculty's accomplishments and congratulate them for leading in innovation, research and academic excellence.