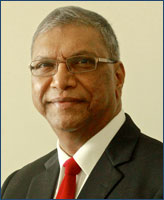 Dean – Global MBA and
Master of Global Business Professor of Marketing & Strategy
PhD in Marketing,

Carlson School of Management
Master in Business Administration, Carlson School of Management
StratX, Paris, France (Certified in Blue Ocean Strategy Practice and MARKSTRAT)

Masters in Management Sciences,

Madras University
Subject Taught/ Student Project Mentor
Customer Value Management

Integrative Decision making

Marketing Management

Strategic Marketing

Business-to-Business Marketing

Product Portfolio Strategies

New Product Development

Sales and Channel Management

Strategic Retailing

Marketing Analytics & Audit

MARKSTRAT

Blue Ocean Strategy
Academic experience
More recently, interacted with eminent faculty in business schools at Harvard, Bentley and Babson for benchmarking of our Global MBA and Executive MBA programs, and exploring areas collaborations for the future.
Dean, Executive MBA, SP Jain and Professor and Head of Marketing area
Member of the Academic Board and the Top Management Team
Professor and Chairperson of Marketing area, Administrative Staff College of India, Hyderabad, India.
As a visiting faculty, he taught at many institutes including Indian School of Business, MANAGE, and Hinduja Institute of Hospital Management.
For Executive Education, Dr Grandhi designed innovative courses and trained thousands of middle and senior managers of high-profile organisations from across India and the world. The use of interactive case pedagogy, real-time simulations, rigour in teaching, emphasis on applied learning, has yielded rich learning experience to the participants.
Leadership & advising activities
Chaired Panel: "Retailing Opportunities in India" Global Franchising Summit at Suntec, Singapore
Has guided innumerable student teams in applied learning industry projects for Frost & Sullivan, Phillips, Du Telecom, Maersk Logistics, Google, Ranbaxy, 3M, Marico, Nokia Siemens Networks, CapitaLand, Changi International Airport Services, Dun & Bradstreet, Dunia Finance, LG Electronics, Haier, Siemens, Suzlon, Pepsi Foods, Phillips, DHL etc.
Corporate experience
Chief Executive of organisations engaged in Integrated Cottonseed Processing, Hospitality and Dairying
Corporate Business Development, Bell Canada, Montreal, Quebec
Conferences, Workshops & Research Publications
Delivered a talk at the Roundtable, First Asia Management Conclave at Singapore on 'Globalizing Indian Management Education', March 2015
Published "What a Waste! A Study of Food Wastage Behavior in Singapore", The Journal of Food Products Marketing, 2015
Panelist at the third American Marketing Association/Sheth Foundation's Doctoral Consortium in Dubai, 2015, on the theme 'Branding and Marketing Strategy', along with Dr. Robert Meyer of Wharton School of Business and Dr. Bernd Schmitt of Columbia Business School
On November 2014, convened in Dubai a high profile conference in his area of current research: 'Big Data - - Achieving Customer Intimacy'
Published a white paper on "Crowd Sourcing for Dubai Apparel Industry: Mirage or Reality?" in 2013
Presented "Global Franchising in Emerging Countries: Opportunities and Challenges" at the 2013 The Academy of Indian Marketing's International Conference at New Delhi, India
Has been invited to present his latest paper "Proximity Marketing for Emerging Countries" at the '2012 Emerging Markets Conference' being organised by the International Management Research Academy at London, UK.
Presented "Global Franchising in Emerging Countries: Opportunities and Challenges" at The Academy of Indian Marketing's International Conference at New Delhi, India
Participated in symposium – "Are B-schools Doing their Job?" and presented "Navigating Retail Brands for Staying Alive" at the 3rd EuroMed conference in Cyprus, in November 2010
Memberships
The American Marketing Association
The Chartered Institute of Marketing, UK
EuroMed Research Business Institute, Dubai
Awards & recognition
Medical Data Reports Inc. Fellowship & Jack L Hurley Grant
Doctoral Research Grant, American Marketing Association
Roland S Vaile Fellowship, Carlson School of Management