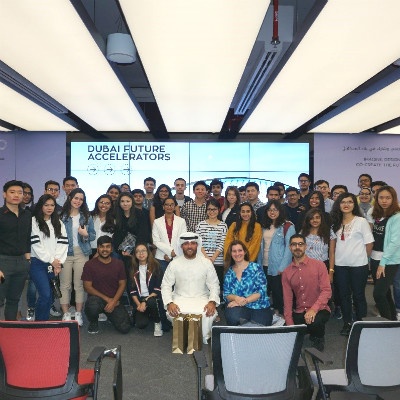 SP Jain School of Global Management's undergraduate business students made a visit to the Dubai Future Accelerators (DFA) on 4th November 2018. DFA is one of the initiatives launched by the Dubai Future Foundation which attracts the world's thinkers and innovators. It is an intensive 12-week program in which participants work closely with industry experts, mentors and the government of Dubai to create breakthrough solutions for the world's most pressing challenges through the use of cutting-edge technologies.
Dubai is a leading test bed for future technologies and innovations. Startups are the nimblest bodies. That's why they gain support through investment and training by the Dubai Future Foundation and the government. The DFA focuses on the identification and deployment of futuristic prototypes and products. There have been around 8000 applicants for this program and 149 companies have graduated till date.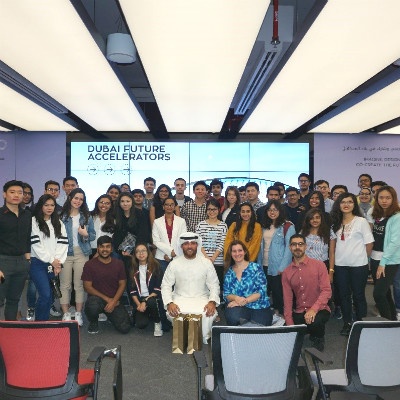 As part of their global learning exposure linked to their Business Disruptive Technology course, the students of SP Jain got the opportunity to interact with three startups who belong to the fifth cohort of the DFA program:
1. Holacracy
Holacracy is a new way of structuring and running an organisation that replaces conventional management hierarchy. Power is vested in a constitutional set of rules, not the CEO; this enables adaptability, efficiency and agility. It is a decentralised network in which no CEO exists, only individuals and teams who have the freedom to self-manage while they stay aligned with the organisation's purpose. Holacracy has created a structure such that all people can become sensors of change.
2. Accubits Technology
Accubits Technology offers integrated consulting and technology implementation services to businesses through digital transformation. It is an AI and blockchain solution providing company. They are currently working on a project with the Dubai government for land registry – switching from paperwork to an online blockchain network. They are also creating AI chatbots with NASA and integrating it with their website so that people can communicate effectively without any delay.
3. Honeybird
Honeybird is a technology to aid educators. They work closely with institutions to direct parental feedback with an aim to improve and deliver the best experience. They believe that education can be enhanced through the use of technology in a minimalistic approach. They create individual learning profiles of every student, gather information on the student's preferred mode and method of teaching and provide reinforcements accordingly.
The industry visit proved to be an interactive and a new learning experience for the students.
Student Testimonials:
"This is the stepping stone for Dubai's success. It can indeed make UAE the number one country by 2071 if all plans are executed well."
- Abdul Alique (BBA student of SP Jain)
"DFA visit was an eye-opening experience for me since we not only thoroughly understood what we studied in school but also expanded our knowledge through new ideas from startups and corporations."
- Diem Phan (BBA student of SP Jain)
*This event article has been written by Aishwarya Sivaramakrishnan (Student of SP Jain School of Global Management's BBA Intake of 2017)