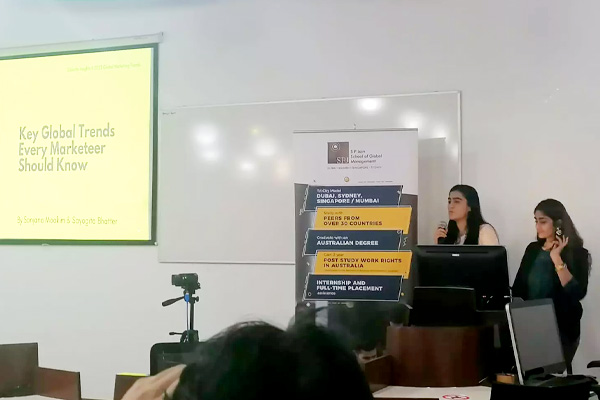 Students present on "Key global trends every marketeer should know"
Students present on "Key global trends every marketeer should know"
SP Jain School of Global Management Dubai campus hosted a student conference titled "Inspiring minds", on April 21, 2022, under the mentorship of Professor Nitin Patwa (Associate Professor, Director – Simulation and Deputy Director of Undergraduate Programs - Dubai, SP Jain) and Megna Kalvani (Deputy Director, Global Learning & Student life, SP Jain).
This conference brought some of the graduating batch's brightest minds to discuss how they would step into the world as working professionals. Dynamic conversation on key topics and exciting reports were presented to educate peers and share knowledge.
The topics discussed at the conference and the excellent presentation skills of the students showed how these young minds are ready to face their futures in the global business world. These aspiring leaders are sure to bring tremendous value to any organisation they work for.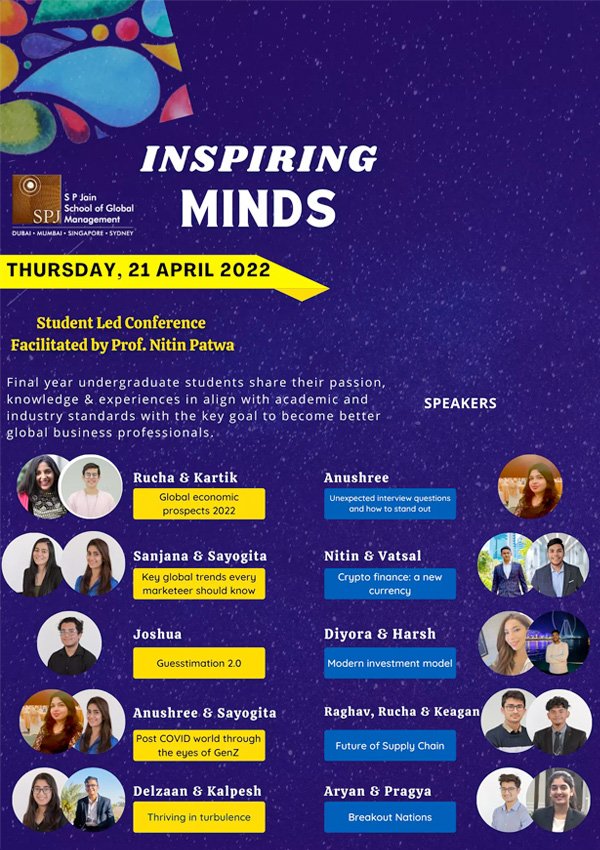 The event was an extension of their classroom learning but out of the classroom and corporate context enabling them to be more prepared from a career perspective. Presentations made prioritised a peer to peer learning perspective and opened a scope for questions and debate.
Some of the topics discussed at the conference were:
Global economic prospects 2022
Key global trends every marketeer should know
Post COVID world through the eyes of GenZ
Crypto finance: a new currency
Future of Supply Chain
Unexpected interview questions and how to stand out among others
Professor Patwa shared, "It's been great to watch these students blossom as they've gone through different years of their tri-city academic journey." He further added, "All of them have excelled; it was wonderful to see them showcase their research, knowledge as they prepare themselves to make a mark in their corporate careers."
The event was supported by Global Learning and Student Life team.