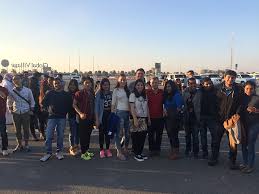 15 January 2016
Since coming back from winter vacation, the BBA 2014 batch spent their first student life event of the second semester at the Global Village in Dubai. Students was to meet and be briefed at the main entry gate at 5 PM. After having passed all the entry tickets, students proceeded to join the rest of the crowd entering the gate, which was an exceptional replica of the St. Basil cathedral in Russia. The students broke into different smaller groups and moved quickly to explore the different 'corners of the world'. The park was filled not only with masses of different people from different countries, but with well-designed replicas of different national wonders and architecture celebrating the different cultures that were showcased. To mention a few, the Opera House of Sydney, the Taj Mahal of India, and the Eiffel tower of France. The park caters to all, as this tourist destination allocates big sectors for each country to hold different shop stalls.
Each part of the Global Village sold different products, foods and souvenirs that were local to those cultures. The African sector for example, featured different shops selling African souvenirs, Shea Butter vendors, and traditional African clothing. Thailand's sector, on the other, had rows of shops selling fake eyelashes, whitening products, and also offered massage centres for both ladies and men. In the same way, each country to their best effort sold culturally oriented products, as UAE (which notably had one of the bigger sectors) sold elegant carpets and rugs, as well as beautiful slippers and shoes for women. However aside from the grandiose setup of shopping districts, Global Village also includes a large amusement park with thrilling rides, and a grand Ferris wheel to raise you up while gazing upon the whole park and the distant skyline of the city. The students were also able to enjoy a row of delectable food stalls, ranging from Turkish teas, Japanese sushi, Mexican grills, to American burgers and other fast food joints that are common in Dubai.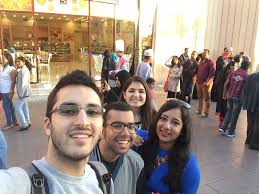 As the night progressed, the Village held different shows with their own characters and theatrics, and Jet Ski shows. The park was packed with incoming visitors all throughout the night, and the students needless to say were enjoying themselves, exploring the different experiences that each sector of Global Village's compound was able to offer. The night finally came to an end as the park put on a spectacular fireworks show as the students exited Global Village.

Some of the notables of the night were of how Global Village was a reflection of how diverse and welcoming Dubai is to other cultures.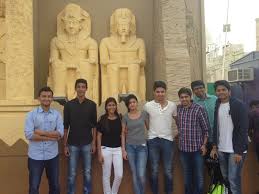 Student Testimonial:

"It was great to see that all the cultures that are more pre-dominantly seen in Dubai (India, China, Africa, Philippines, and Syria) were given great recognition of their culture."