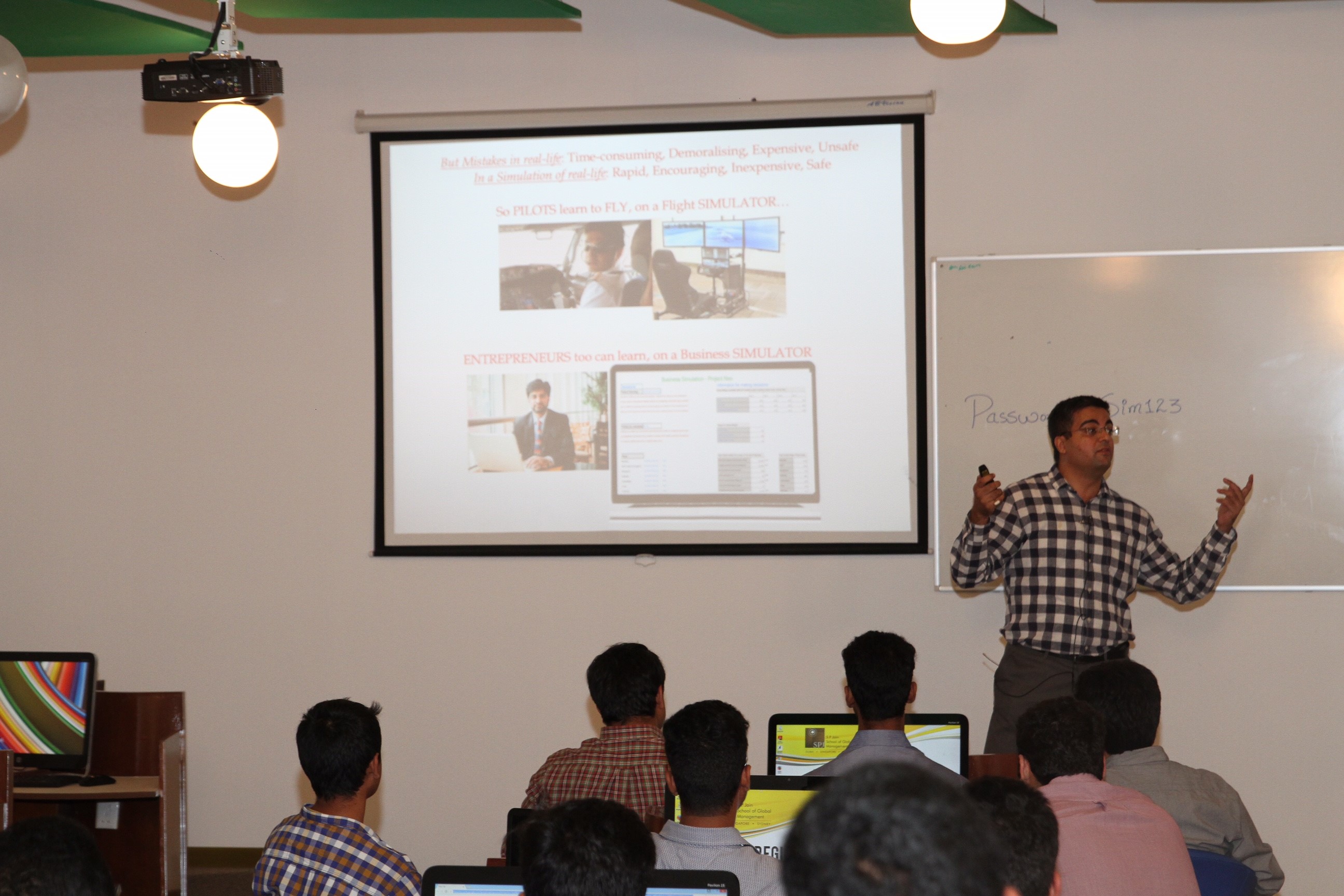 Setting:
Business Simulation Class for Global Family Managed Business (GFMB) Program – Batch 08, 1st Contact / Month

Date:
September 6, 2017

Setting:
Business Simulation Class for Global Family Managed Business (GFMB) Program – Batch 08, 1st Contact / Month

Date:
September 6, 2017

Place:
Simulation Lab - SP Jain School of Global Management, Dubai Campus

Participants:
100+ Sons & daughters of family business owners largely from India, handful from Pakistan, 1 from Kenya (2 divisions / batches)

Faculty:
Jaishankar M. Talreja (Author of the Simulation & Facilitator for the session)

While there is hardly any disagreement in the class when I make a case for 'Mistake being the Best Teacher', yet everyone admits that mistakes in real-life are time consuming, expensive, demoralising & unsafe . Imagine a pilot making mistakes on flight! So 'Flight Simulators' are used for training pilots because in a 'simulation' (imitation of a real-life system), mistakes are rapid, inexpensive, encouraging & safe!
Just like pilots, entrepreneurs too can learn on a Business Simulator especially if the simulation is based on a real-life case where the faculty has first-hand experience. So, instead of using an off-the-shelf simulation which the participants may or may not even relate to, I decided to build a simulation on the case of a family business I had consulted for around 3 years; leveraging on my earlier experience in building simulations on 'Post Merger Integration' with Tata Interactive Systems and on 'Transforming Businesses' for a leading executive coaching company. The GFMB Program Director, Prof. Parimal Merchant (a stalwart / authority in the FMB arena), who has always inspired me, had been pushing me to make simulations for some time in any case.
The Business Case
The second-generation entrepreneur in a family business was getting impatient with the topsy-turvy ride in the existing business (contract manufacturer exporter of home textile largely to Ikea) due to nagging issues with suppliers (processors in this case) and decided to embark on an adventurous journey (set up a multi-brand luxury retail store housing premium international luxury apparel, home textile & accessories brands to enable the ever growing segment of affluent, brand conscious Indian consumers to shop in India instead of waiting for their next foreign trip). In order to engage the students, I described the business case using a 'rap.' I don't know if it's true when an American friend, an ex-diplomat & an Opportunity Consultant, calls me World's first CA rapper but I know for sure that a 'rap' helps bridge the communication 'gap'!

What is the Role of the Participants in the Simulation?
Grouped in teams (of 5), participants make decisions as the entrepreneur (by selecting one out of multiple options for each decision forcing trade-offs) to maximise Accumulated Profits yet maintain optimal RoI. I described RoI using the tune of the title song of a blockbuster Hindi movie to drive home its importance…

Which Decisions do Participants make?
9Ps - Product, Pricing, Place, Pace, Property, Plushness, Promotion, People, Pundit (Consultant)

What Information is provided to Participants for making Decisions?
General information required to assess the market size, growth, outlook etc. & decision specific information like the impact of each 'Pricing' decision option on margins, Real Estate rates for Buying, Renting, Building, Leasing land & building is provided to the participants

What Outcomes do Participants view after making Decisions?
I then process Decisions for each team in the Algorithm (Model behind the Simulation) that I created to generate the results. Dashboard with Outcomes across 4 years are shared with each team and team-wise competitive results are projected through my computer. Metrics in the Dashboard include not just the accumulated profits and RoI (store-wise & total) but also Market Share, Efficiency, Break Even Revenue…

What is so different about learning via a Simulation?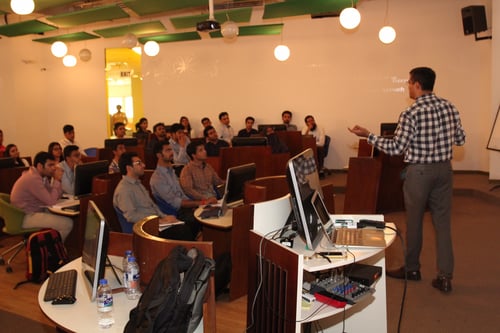 The entire experience of making decisions in teams tests not just participant's knowledge holistically (viz. Strategy, Operations, HR, Finance) but requires them to apply varied skills that they will need in real-life to succeed as entrepreneurs - analytical, team-work, negotiation, conflict-handling, time management… The 'game' setting with competitive pressure (multiple teams) ensures participants have pride to play for. Participants are itching to know the outcomes after making decisions as if their happiness depended on it hoping that they got the decisions right! When many teams return negative RoI and accumulate losses instead of profits or are not the top-ranking team though they thought they made it, their piercing eyes want to know why did their decisions lead to these outcomes?

When I finally link decisions to outcomes convincingly using the same information they had access to, their reactions assure me that the learning was not just acquired but would be retained for real-life application, because as they say ' Mistake is the best teacher'…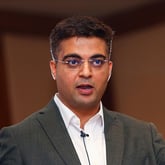 About the Author: Prof. Jaishankar Talreja
After completing CA from Ernst & Young at the age of 22 & working in varied roles (Auditor, Business Consultant, Product Manager- Simulations, Investment Banker, CFO/ COO/ CEO), Jaishankar found his heart's calling 3 years ago – use his consulting legacy in handholding businesses to be so successful that others want to invest in them i.e. Venture Capital (VC) / Private Equity (PE) / IPO (e.g. helped an exporter ~2.5 years ultimately raising INR 25 CR PE) – to redefine learning experiences for entrepreneurs using simulations (Business Plan, Finance).