Business has existed since the beginning of humankind. To what extent does technology disrupt it? What are the tools and skills required to thrive in the modern-day work environment?

SP Jain School of Global Management, in collaboration with Economic Times, conducted Technology & the Future of Work - a Panel Discussion Series with the leaders of the technology industry. The discussions explored varying disruptive technologies of this era including Big Data, Artificial Intelligence, Virtual Reality, Fintech, and Cybersecurity.

The panellists shared their insight into the disruptive technology of today, discussing how the job market of tomorrow will be staggeringly different. Held across the months of September and October 2017, the events saw participants from across different domains coming together to hold an interactive discussion with the industry leaders.

The Panel Discussions were later aired on ET NOW. Here's a look at what the panellists spoke during the discussion.

Panel Discussion #1: Artificial Intelligence, Machine Learning, Big Data, Analytics - The Game Changer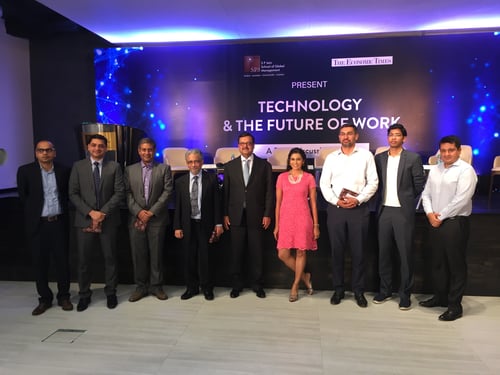 "Employees who were once involved in the task are now involved in making and supporting the Artificial Intelligence. The job market is completely changing." – Abhinav Aggarwal | Founder & CEO – Fluid AI (Trutech)

"If you wish to study AI, do so in a business school, rather than in an engineering school. This way, you are informed about how AI will affect the world "
- Kushe Bahl | Leader of Digital Practice & Partner – McKinsey & Co.

"AI is helping people shift to higher level development. Let machines do what they're good at. Human beings will focus on other things instead."
-Shubhashis Sengupta | Associate Director – AI R&D, Accenture Labs

"In today's world, it is important to learn coding and mathematics. Not because you will become a coder. Because it teaches you rigorous thinking. It teaches you that even one mistake will yield the wrong results - a lesson vital to the new business world."
-Dr Debashis Guha | Director - Machine Learning Program, SP Jain School of Global Management

"India, today, is probably the fastest adopter in terms of robotics as well as cognitive technologies. However, it will take some time for the commercial deployment of Artificial Intelligence. For example, understanding the different undertones of a conversation is something we still haven't been able to program in an AI."
- Milan Sheth | Partner, National Director – Technology Sector & AI Robotics Leader – Global TMT Sector, Ernst & Young

"It is proven by data research that learning among peers is better than learning by yourself. A peer group discussion monitored by a professor has been found to be more effective."
– Akhilesh Ayer | EVP & Head – Research & Analytics; Global Head - Marketing (CMO) – WNS

Click Here to watch the Panel Discussion #1 episode aired on ET NOW.

Panel Discussion #2: Fintech - The New World of Finance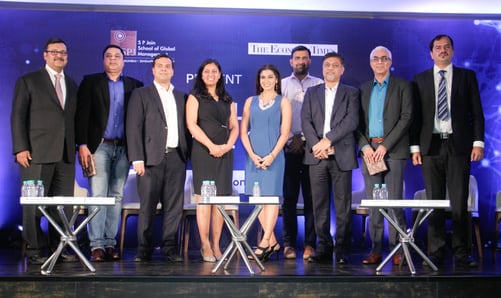 "People who are interested in Fintech as a career prospect need to realise that tomorrow's job market is going to be staggeringly different with a requirement for brand new skill-sets."
-Vikram Pandya | Director – Fintech, SP Jain School of Global Management

"With the innovation in technology, unlearning is almost as important as learning."
- Manavjeet Singh | Founder & CEO, Rubique

"While we often say technology will help business, we seldom realise that technology is business"
- Vivek Balgavi, Partner | India FinTech Leader, PwC

"Data is the core of everything. IoT is going to be absolutely critical even in Finance. I can leave my home today without my wallet, but not without my phone. That is what fintech has achieved"
- Chavi Jafa | Head of Business Solutions, India and South Asia, Visa

"Banking is changing drastically. Today, the person who understands business is often different from the one who understands technology."
- Sanjay Sharma | CIO - Head - Technology, Innovation & Customer Fulfilment, RBL Bank

"Yes, banks are moving. But are they moving fast enough? 2016 was the year of the cashless. 2018 might be the year of paperless. And the future, seamless."
- Navin Chandani | Chief Business Development Officer, Bankbazaar.com

"When you look at technology, don't look at it in isolation. Knowing Blockchain won't be useful unless you can build a story on Blockchain."
-Satyam Mehra | Partner, Bain & Company

Click Here to watch the Panel Discussion #2 episode aired on ET NOW.

Panel Discussion #3: Cyber Security - Securing the Connected Workplace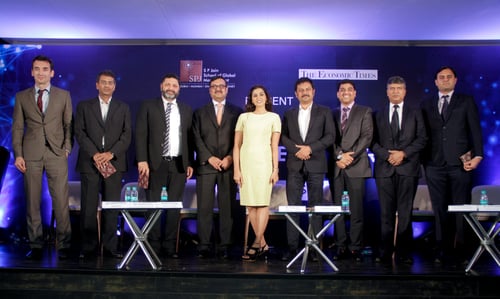 "The talent in Cybersecurity - both offensive and defensive - are highly sought after. The nations excelling in cybersecurity get their expertise from the academia. India needs to be agile and updated on the curriculum."
- Brijesh B Singh – IPS | Special Inspector General of Police, Cyber, Maharashtra State, Mumbai

"Gamification is the easiest way to help students build their expertise in cybersecurity. While we can provide the
training to students, it is up to them to keep themselves updated with time."
- Lt. Col. Ashis Mujherjee | Director – Cyber Security, SP Jain School of Global Management

"The data that is available for the government is also available to the criminals. That is the danger we have to combat."
-Nikola Sucevic | Head – Data Science, Reliance JIO

"Cyber is already the fifth domain today, after land, air, water and space. Hence, Cybersecurity is one of the only recession-proof jobs today. The options open ranges from being an Ethical Hacker to a Certified Specialist."
- Burgess Cooper | Partner - Cyber Security, Ernst & Young Global

"We have to address that Cybersecurity is no longer an IT issue. It is a business issue. The cost of security for an enterprise is disproportionately higher than that for hacking."
- Joydeep Dutta | Executive Director & Group CTO, Central Depository Services India Limited (CDSL)

"The question is not if you will be attacked. The question is when you will be attacked."
- Altaf Halde | Managing Director – South Asia, Kaspersky Lab

"If a smartphone user wishes to enjoy the features, they need to forget about security and privacy today. Not facing a Cyberattack doesn't mean that you're secure. It just means that you've not been targeted yet."
- Mukesh Choudhary | Founder & CEO, Cyberops Infosec

Click Here to watch the Panel Discussion #3 episode aired on ET NOW.