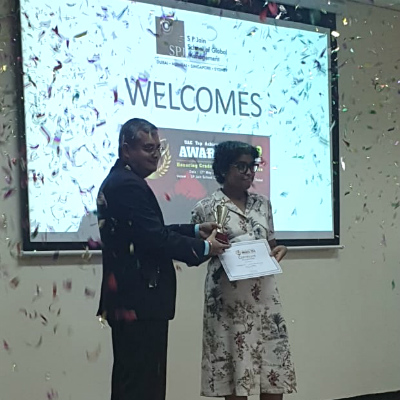 SP Jain School of Global Management takes pride in recognising excellence and honouring the best performers. Staying true to our vision, we were thrilled to host the 4th Annual UAE Top Achievers' Awards 2019 in collaboration with The Young Vision on May 17, 2019, at our Dubai campus.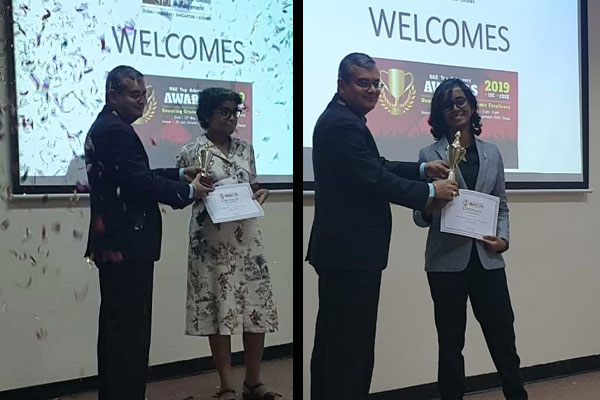 (From Left to Right) Dr Arindam Banerjee, Associate Professor, Deputy Director - GMBA & MGB
and Director - Student Recruitment (UG Programs) at SP Jain, with Ms Jayashree Iyer,
The Indian High School (CBSE commerce stream topper in UAE); and Dr. Arindam with
Ms Sandra Baiju Prasad, JSS International School (ISC commerce stream topper in UAE)
The UAE Top Achievers' Awards is an annual event where SP Jain and The Young Vision meet with the country's top performing ISC and CBSE students to celebrate their outstanding results.
This year, top academic achievers from over 35 ISC and CBSE schools across the UAE were felicitated at the event. School and subject toppers were bestowed with medals, trophies and certificates to mark their success in the Grade 12 board exams and reward their commitment and hard work.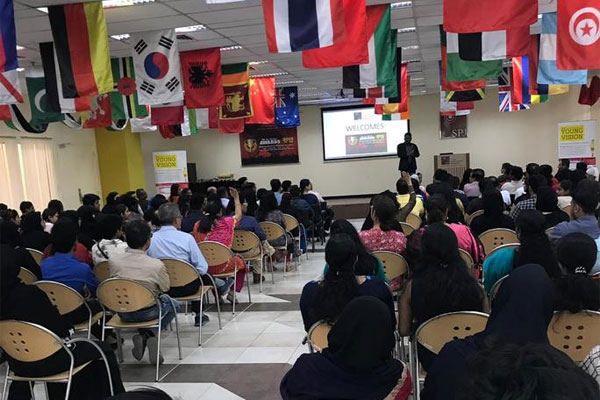 Prof Christopher Abraham, CEO & Head - Dubai Campus
and Sr Vice President - Institutional Development at SP Jain, addresses the attendees
Ms Jayashree Iyer of The Indian High School and Ms Sandra Baiju Prasad of JSS International School, toppers of the CBSE commerce stream and ISC commerce stream in UAE respectively, were among the young achievers who were felicitated at the event for their exceptional performance.
We are also delighted to share that Ms Jayashree Iyer, the UAE CBSE commerce topper, will be joining the Bachelor of Business Administration (BBA) cohort of September 2019 at SP Jain.
We laud the students for their relentless hard work, the teachers for their dedication and the students' family and friends for their unwavering support. Team SP Jain wishes the students all the best for their future endeavours.