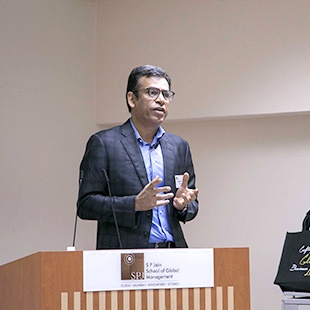 The rise of the digital economy is disrupting the business landscape globally. Technologies such as AI, Robotics, Machine-Learning, Virtual Reality and Big Data are transforming the nature of industries and businesses. Digital and technological transformation is one of the top priorities in Singapore, and many firms believe that their workforce will fundamentally change in the coming years.
To keep up with the swift changes, how can business leaders redefine their strategies and enhance their organisational capabilities?
On 27th April, SP Jain Singapore held its 7th Human Resource (HR) conclave that included two thought-provoking panel discussions led by thought leaders in the Human Resource space. More than 70 HR practitioners and thought leaders attended the event.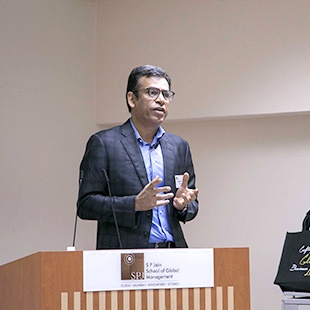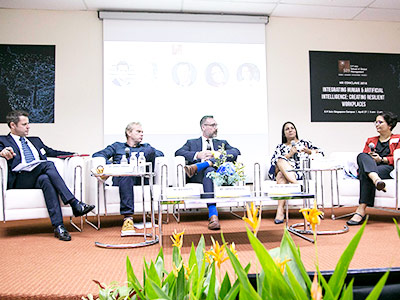 During the conclave, Dr Veena Jadhav, Assistant Professor of Human Resource, shared a survey result that involved more than 80 HR practitioners from different industries across Mumbai, Dubai, Sydney and Singapore.
The keynote speaker, Mr. Samba Natarajan, CEO Group Digital Life at SingTel started the conclave, discussing the three things big companies could do to go with the digital transformation – to sub the current existing operations of the model; to create entirely new business where one could take advantage of the assets they have without the constraints of geographic limitations; and lastly, to recognise the importance of partnerships to bring technology and scale into places that one might not have access to.
The first panel looked at the future of digital enterprises, while the second panel shared their insights and experience on integrating human and technology environment.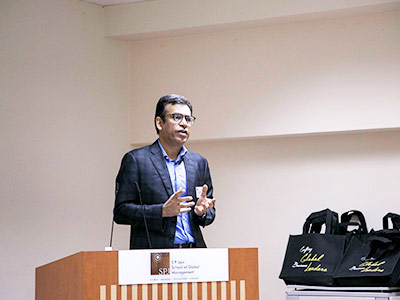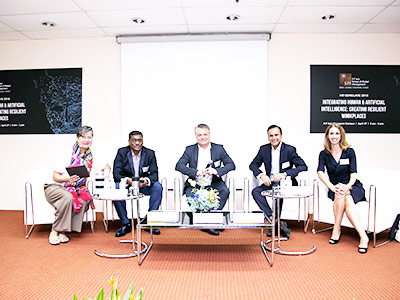 The panels discussed how the future HR who stands in the middle human-robot integration, they should be thinking of how they could work together and how they integrate them. You may not like what AI is doing today but you cannot look into the future with the rule base on what is existing today. You need to be ready for it as this is the future.
When it comes to the HR Imperative on integrating human and technological environment, the panel speakers highlighted some of the skills required to succeed in this knowledge economy that is evolving and in short supply.
At the end of the event, the experts encouraged all human resource professionals to embrace the change and most importantly, to not fear it as it might unravel exciting possibilities. Whatever role we plat, we need to disrupt ourselves to add value and connect with others to take the next step forward, driving the necessary change, step by step.