The MGLuxM Conversation Series has been augmenting with neoteric series week after week. The latest event was conducted on 30th June,2017, where the students gained broad vision into distinctive sectors. The students learnt from the industry artists various spectrums of entrepreneurship, consumer behaviour and market structures.
The renowned panellists included Ayush Diwan Khurana (Owner - Modello Domani Luxury Footwear), Kuntal Pendsey (Luxury Wedding and Production Desingner), Delna Elavia (HR manager - India Estee Lauder), and Ayush Bhatia (Director-Golden Swan Club). They helped the students view their dynamics in the industry from the aspects that most of them were oblivious of.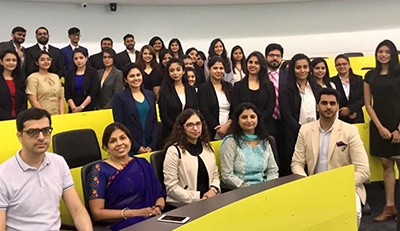 The conversation discussed the fundamentals of brand building, innovation, craftsmanship, uniqueness and how dissimilar age groups follow luxury gaming in corporate sector. The panellists were pleased by the students' enthusiasm while sharing worldliness and answering their questions and explained how a country's culture affects their buying behaviour with relevant examples from India and even across the world. While emphasising the need for a notion, the Conversation Series facilitated the students understand these industries from a global as well as local perspective.