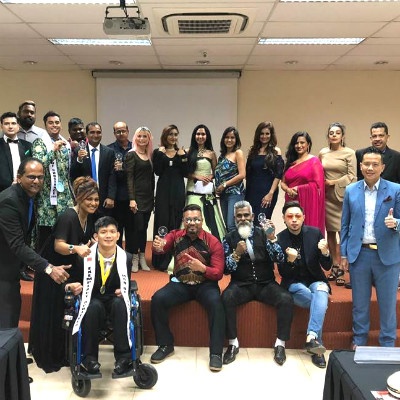 In celebration of International Men's Day, SP Jain School of Global Management (SP Jain) welcomed 120 guests to its Singapore Campus on 24th November 2018 as the Knowledge and Venue Partner of the inaugural 'Man of Substance 2018' event.
In partnership with Style Etiquette and Shinz Productions, the 'Man of Substance 2018' aimed to recognise, appreciate and celebrate the inner strength of men from all walks of lives. Hailing from diverse backgrounds, each participant had his own story to share. Whether it was overcoming a struggle in life or contributing greatly to the community, all participants embodied true courage and resilience.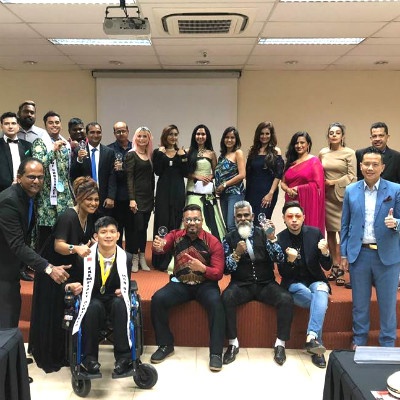 SP Jain School of Global Management celebrated with partners,
participants, and awardees at the inaugural 'Man of Substance 2018'
event hosted at its Singapore Campus
The afternoon saw nominees showcasing their talent and passion, a catwalk with participants dressed in formal wear, and the announcement of two important awards – the Exemplary Achiever Award 2018 was given to Mr Wesley Wee, who recently published a book by typing with his toes due to having cerebral palsy since the age of five, and Mr Vijay Singh Minocha was honoured with the Lifetime Achiever Award 2018 for his selfless contributions to the community.
As one of the judges at the event, Dr John Fong, CEO & Head of Campus (Singapore), said, "SP Jain is proud to be the knowledge and venue partner for the inaugural 'Man of Substance 2018' which recognises the achievements (of men) that are not defined by status, money, and career but in their inner selves. Similarly, SP Jain celebrates this diversity in strengths – which is why we find it essential to not only develop the IQ and EQ of our students but also nurture their CQ (cultural quotient)."
Joining the esteemed panel were other judges including:
• Mr Anbarasu Rajendran - Acting CEO of Singapore Indian Development Association (SINDA)
• Mr Jeremy Soh - Director of Vintage Studio Hairdressing Spa & Recipient of Young Entrepreneur Award 2010
• Ms Renita Kapoor - Owner of Myra's, Yantra, Brunetti, Buzz In The Woods, Qasr, Samyra's & Myra's Express
• Ms Renuka Arora Bhagat - Celebrity Host & Founder of Radio Masti 24x7
• Ms Sabah Binte Ali Alkhatib - Miss Earth United Nations 2018, Miss Singapolitan Islandwide 2017, and Brand Ambassador for MM&S GLOBAL
• Ms Tahira Amir Khan - Author & Appointed Ambassador of Unity-in-Diversity of the Global Dialogue Foundation
As for the full list of winners, here are the awards given:
• Mr Community Hero - Mr Anup Kishor Sharma
• Mr Goodwill - Mr Avichal Agrawal
• Mr Enterprising - Dr Chandran Supermaniam
• Mr Young Achiever - Mr Gabriel Joachim Perumal
• Mr Optimist - Dr Harshal Andhare
• Mr Congeniality - Mr Haydon Roy
• Mr Iconic - Mr Mark Hermoso
• Mr Inspiration - Mr Martin Kannu
• Mr Determined - Mr Pravin Kumar
• Mr Courage - Mr Ruzaini Hassan
• Mr Philosophical - Mr Saravanan Govindasamy
• Mr Sensible - Mr Vincent Chew
Additionally, the following awards were given for:
• Most Charismatic and Best Performance of the Day 2018 - Mr Haydon Roy
• Most Eloquent - Mr Saravanan Govindasamy
• Most Stylish - Mr Vincent Chew
To see more photos of the event, click here.