After learning about finance and efficient markets in class, the UG jags went out and experienced how the markets in the real-world work. The BEC Jags visited the Dubai Financial Market in Dubai World Trade Center on 19th March 2017 to learn more about the first financial market which offered its shares through an IPO in the Middle East. The objective was to learn how this reflects the leading role played by the Emirate of Dubai in selling shares of governmental institutions in the region.
It comes with little surprise that within a short period, the Dubai Financial Market (DFM) has fast developed into a leading financial market across the region, emerging as a powerful capital market hub which embraces the best international practices to meet the evolving needs of its investors locally and internationally.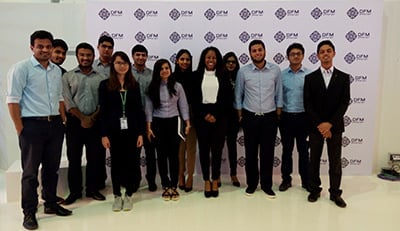 Interacting with DFM representative, Ms. Hanam Al Habashi shared key insights about the legacy, philosophy of the exchange, the process of an IPO, the regulations of DFM and prospective career opportunities for young business professionals.
"We reached there at 9.30 am, which happens to be the pre-open time where the traders were on the trading floor, bidding for stocks before the markets opened. At 10 am, the markets opened and the investors were glued to the computers at the trading floor and saw how the markets faired. We sat there with an investor and saw the prices change every second. This was the moment where all the Jags brought their class room knowledge into the real world." -Student, BEC student, SP Jain School of Global Management