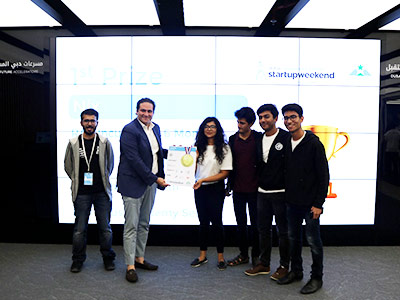 BBA 2nd year students currently studying at the Dubai campus recently won the first place at Startup Weekend: University Edition at the Dubai Future Accelerators, Emirates Towers held between 19th – 21st April 2018.
Sanidhya Saroj, Tanushree Kumar and Saroj Kumar – students of the BBA program - were given two days to come up with an idea, form teams, develop the idea and present it to a panel of judges. The trio came up with a social enterprise that focuses on reducing natural resource consumption with the implementation of gamification.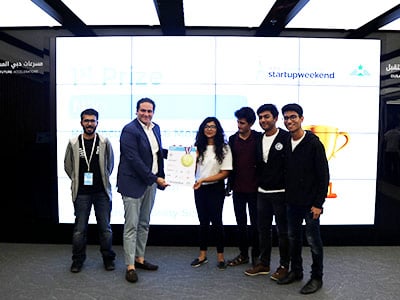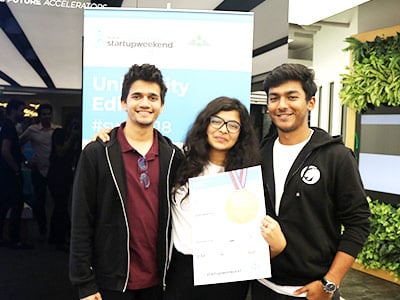 The team did a fabulous job and were highly commended by the esteemed panel of judges that included: Dana Horska (Chief Investment and Innovation Officer, AWOK) Joy Ajlouny (Co-Founder and Creative Director, Fetchr) Hamed Eghdani (Director of Government Relations and Emiratisation, Emaar) Shahram Hashemi (Group Director of Strategy and Investments, RAK Economic Zone) and Jihad Tayara (Vice President and Business Development and Partnerships, New Business and Innovation, du).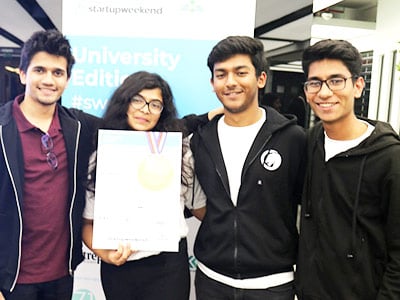 The students have won 6 months with RAK Incubator and Accelerator, 3 months with Unbox workplace, 1 month with Astrolabs and 3 academy track seats with Astrolabs allowing them to develop and enhance their entrepreneurship skills.
"It was an amazing opportunity and experience for we got shortlisted among 11 teams. There were around 80 people at the competition. Our team was a social enterprise that was encouraging water and energy conservation through the concept of gamification and rewards. We worked on the idea just over the weekend. We had a chance to talk to several mentors, presented the idea to a panel of judges in 5 minutes with a 3 minutes question-answering round after that," shared Tanushree Kumar.