The Global MBA Class of 2019 witnessed a 3-fold jump in average starting salaries – from INR 6.5 lakhs (pre-MBA) to INR 20 lakhs on completing the program.
SP Jain School of Global Management recently announced the ongoing successful campus placements for its flagship Global MBA and Master of Global Business programs for the Class of 2019. This year, our students have received over 50% international offers and some of the top employment locations are India, Dubai, Singapore, Philippines, Vietnam, Bahrain, Qatar, Kenya and Nigeria, among others.
We are thrilled to share that our students' achievements have been featured in leading publications including Business Insider, Business Standard, Daily Hunt, Easy Shiksha, Economic Times, Get my Uni, Higher Education Plus, Hindustan Times, India Education Diary, India Finance News, Inshorts, Shiksha and Skill Outlook.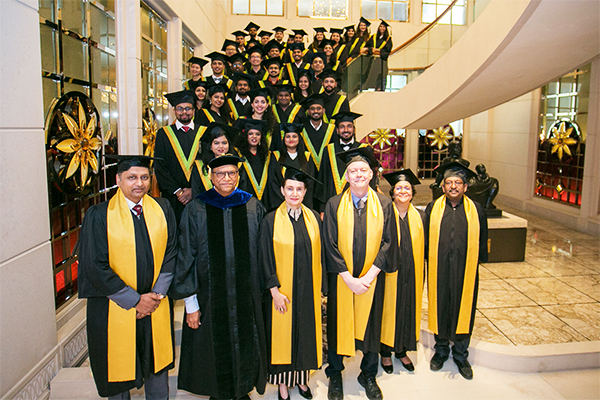 Our postgraduate students and faculty at the graduation ceremony earlier this year
Here are the key highlights from this season's employment report:
1. Students received 50% placement offers for international opportunities.
2. The highest offer for the Global MBA cohort was INR 45 lakhs and the average offer was INR 20 lakhs. The Global MBA program is designed for professionals with 3+ years of work experience and the batch has an average work experience of over 6 years.
3. Top recruiters for the Global MBA program include KPMG, Dell, Rivoli, KPI Soft, Tata NYK, Accenture Strategy, E&Y, Deloitte, Vector Consulting, Cedar Consulting, Cogoport, Johnson & Johnson, Adani, Genpact, PWC, Barclays, Ceva Logistics, Zenrooms and Sofis.
4. The highest offer for the Master of Global Business cohort was INR 36 lakhs and the average offer was INR 18.5 lakhs. The Master of Global Business program is designed for graduates with 0-3 years of work experience and the batch has an average work experience of over 1 year.
5. Top recruiters for the Master of Global Business program include multinational companies across the world such as Deloitte, Schneider Electric, Johnson & Johnson, Landmark Group, Kuehne + Nagel, Redington Gulf, Aramex, Westcon, Dunia Finance, Homebox, Danzas, Essar, Adani, Cogoport, Cedar Consulting and Genpact.
6. Consulting emerged as the top recruiting sector with 24% placement offers followed by Logistics & Supply Chain at 17% and Information Technology at 16%. Other recruiting sectors include Fintech, Banking, Investment Banking, Retail, Luxury, Education, Staffing, Energy, Pharmaceutical and more.
Top Recruiting Sectors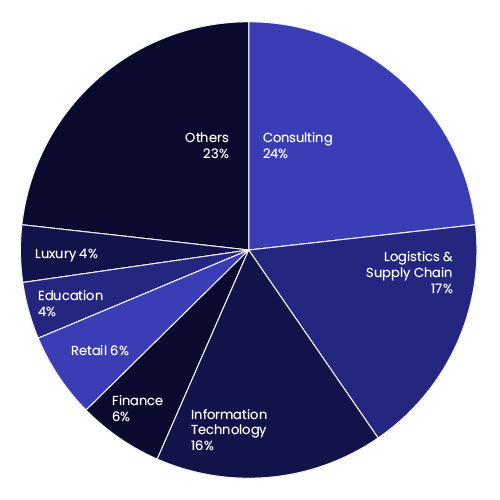 7. Leading startups such as Zenrooms, Gnowbe and Cogoport commanded a sweet spot in the placement race.
8. All functions were well represented – from advisory (Consulting – 24%) to business management (General Management – 8%) to customer-facing (Sales & Marketing – 35%; Logistics & Supply Chain – 15%) as well as production/cost centres (Information Technology – 9%, Finance – 9%). This diversified placement is strongly indicative of our students' fungibility as well as future growth in their chosen career path.
Top Functions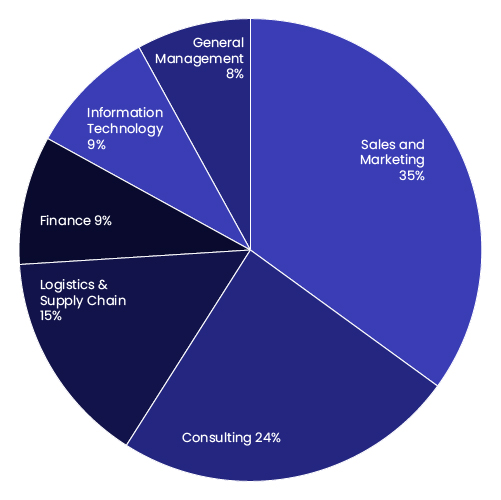 Dr Balakrishna Grandhi, Dean of the School's Global MBA & Master of Global Business programs, attributes this success to the School's unique tri-city learning model that has proven to transform its students from ordinary graduates to 21st century global business leaders. SP Jain Global, which has campuses in the leading business cities of Dubai, Mumbai, Singapore and Sydney, is known for pioneering and offering the world's first tri-city undergraduate and postgraduate programs.
"Our students have a unique edge when it comes to competing for global jobs. Having lived and studied in three of the world's top business cities, they have first-hand knowledge of how to operate and succeed in a global business environment. They know how to work in global teams; they are globally minded and emotionally intelligent and these skills have continued to reap rewards in the form of better jobs and salaries long after they graduate. Our many rankings by the world's top international publications are testimony to this," shares Dr Grandhi.
Our Global MBA program was recently ranked #12 in the world by Forbes, ahead of Hong Kong University, HEC Montreal, Erasmus (Rotterdam), Cass and Hult. The Forbes ranking is based on the return on investment achieved by business school graduates in their first five years post-MBA. Previously, the School has also featured in prominent international rankings by the Financial Times, Times Higher Education-Wall Street Journal, Nielsen and The Economist.