Known as the festival of colours or the festival of love, Holi is a Hindu festival widely celebrated not only in India and by the Indian Diaspora, but also by Russians and the French. Traditionally celebrated after burning a wooden structure representing the demoness Holika, the festival celebrates the victory of good over evil. The colours are said to represent the bursts of joys.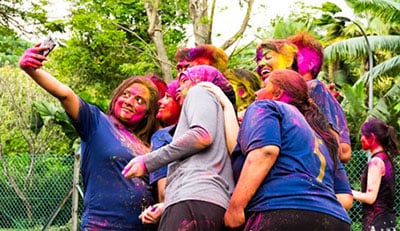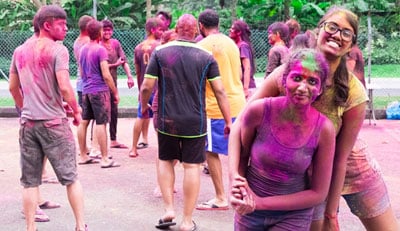 Over the years, Holi has globally become one of the most important and highly anticipated festivals. 13th March, 2017 saw all the students at SP Jain's Singapore campus come together to celebrate the festival of love and colours. The festival was celebrated with merry-making, culminating in a carnival of colours where everyone played, chased and coloured each other with dry powder and coloured water. One could find people swiping a dash of hot magenta across someone's forehead; rub a little deep blue on a belly there and then run off laughing.
It was a great sight to see people of different ethnic backgrounds coming together and celebrating a festival that is almost unique to a single culture in the world. Once the now mainstream Bollywood songs and international pop songs started playing, everyone started to just dance to the beats.
With the celebration of the numerous cultural festivals including Holi, Hari Raya Haji and Chinese New Year, the Singapore campus revels what its different ethnic groups have to offer.