We are thrilled to share that SP Jain School of Global Management's new technology Engaged Learning Online (ELO), which brings the on-campus learning experience online and in real-time, has been featured in The Australian, Australia's leading media publication with a reach of 1.8 million readers.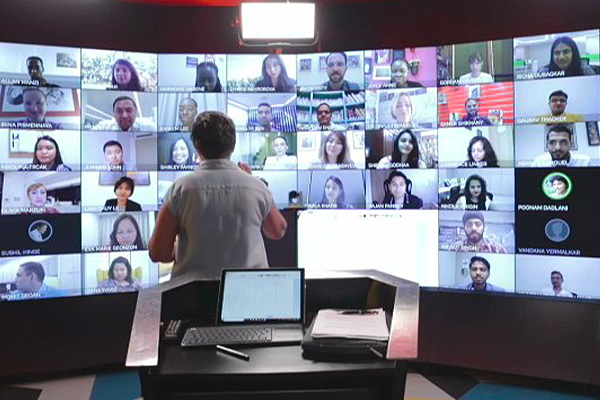 SP Jain's state-of-the-art Engaged Learning Online (ELO) studio
The article, published on August 5, 2019, highlights how SP Jain's ELO studio offers working professionals a way to pursue an MBA without interrupting their busy schedules. Through ELO, students can log in from any part of the world and get all the benefits of an on-campus education. They can interact with world-class faculty, share ideas with their peers, collaborate on assignments, break out into teams to discuss and debate – all in real-time and without any loss of engagement. The ELO studio is meticulously designed to deliver an engaging experience remotely for students irrespective of the location they are in – at home, work, a café or even an airport.
The ELO studios are currently housed at the School's Mumbai and Sydney campuses, with plans to launch in Singapore and Dubai before the end of the year. The platform is at the heart of the School's Executive MBA (Online) program, which was introduced in India in March this year and will be launched in Australia this September.
"Through the ELO technology, we're now able to offer executives in Australia a truly unique learning experience which works flexibly with their schedules," said Peter Helson, CEO & Head of Campus (Sydney), SP Jain. "Students can log in to the ELO platform from the comfort of their home or anywhere in the world and get the same curriculum and academic discipline of SP Jain's on-campus EMBA delivered real-time."
The School's president, Nitish Jain, said the ELO platform was just one of the many technology initiatives on its road map. "Today, technology is disrupting practically everything, including how we learn, where we learn and who teaches. We are among a handful of schools to have embraced technology to craft unique learning experiences for our students and made world-leading teaching available regardless of location," he shared.