You can now catch up on the latest happenings at SP Jain School of Global Management on our very own radio channel – FM 12.0 SPJ Radio!
We are thrilled to announce that our Bachelor of Business Administration (BBA) students in Dubai, including Kartik Ahuja, Keagan Kurien, Vanshika Godha and Raghav Bansal, have started FM 12.0 SPJ Radio – a platform to interview our distinguished guests and leaders, share the latest campus updates and a lot more.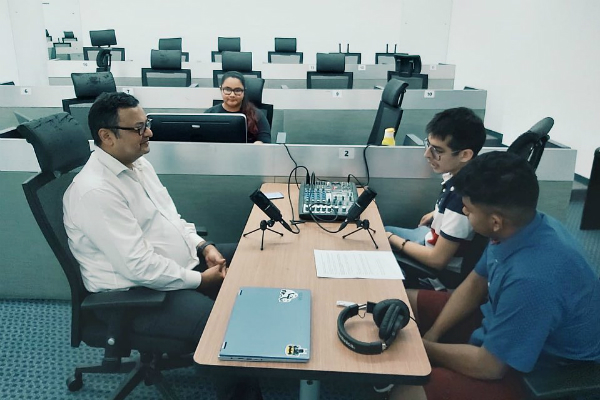 Our students interview Nitish Jain, President, SP Jain School of Global Management, for the first episode of 'Unplugged' on FM 12.0 SPJ Radio
The first episode of 'Unplugged' featured candid conversations between our School President Nitish Jain and our students Keagan Kurien and Kartik Ahuja. You can tune in below:
While preparing for the channel unveil, our students got an opportunity to attend the Middle East Podcast Forum 2019 at Jameel Arts Centre in Dubai and interact with Big Hass (Hassan Ahmad Dennaoui) – the host of Saudi Arabia's first hip-hop show on FM radio. A first of its kind platform, the forum brought together podcasters from across the Arab world to share experiences, knowledge and the best practices from industry leaders in the region. Our students gained insights on the state of the podcast industry, how to grow your listening audience, the business case of podcasting and the art of interviewing.
Our students have been undergoing training with reputed RJs and podcasters and we are streamlining our shows to boost our content output that will cover business, debate, current affairs, careers, community events, music, lifestyle and more to match the live radio format.
The aim for FM 12.0 SPJ Radio will soon be to collaborate with other campuses to bridge our conversation with our freshmen, sophomore and seniors in all four cities – Dubai, Mumbai, Singapore and Sydney. We may be the pioneers of an inter-city student radio!
Our move into this space of audio-generated content is timely as the Middle East, among other regions, is going through a "renaissance" with podcasts being the new face of journalism and storytelling and a great platform for our students to be on – allowing them to expand their learning, creativity and network.