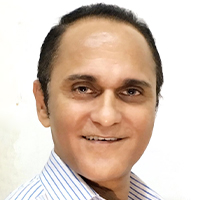 Hansel D'Souza
Adjunct Faculty, SP Jain School of Global Management
With 23 years of rich academic experience, Hansel D'Souza is a corporate trainer, professor of management, brand consultant, advertising copywriter and social activist. An Adjunct Faculty with SP Jain School of Global Management, Mr D'Souza holds a Master's in Management Studies from Jamnalal Bajaj Institute of Management Studies (Bombay University) and specialises in Negotiation & Conflict Resolution, Leading Teams & Organisations (Simulations) and Personal Effectiveness. He is currently the head of HMA Brand Consultants and regularly trains executives at Reliance, TATA, Adani and other leading corporations.
By registering for the Masterclass and Information Session, not only will you get to discover how the global experiences at SP Jain will prepare you to succeed in your career, but this will also be your chance to meet and network with fellow MBA aspirants.