November 17, 2016: In a major step aimed at enhancing education and training in Cybersecurity, SP Jain School of High Technology (SPJ-HT) signed a Memorandum of Understanding (MoU) with Interdisciplinary Center (IDC) Herzliya, Israel.
SPJ-HT, an affiliate of the globally ranked S P Jain School of Global Management, offers an innovative 6-month program in Cybersecurity. Students pursuing this program can now opt to spend a month of the program in Israel, and also pursue internship opportunities there. Israel is globally recognised as a world leader in Cybersecurity. A broader collaboration is also being contemplated, and will be decided later.
The MoU was signed between the institutions today under the auspices of Honorable President Reuven Rivlin of Israel and in the presence of Mr. Prakash Javdekar, Honorable Minister for HRD Government of India in Delhi. On behalf of S P Jain, President Mr. Nitish Jain, S P Jain, inked the agreement and IDC Herzliya was represented by Dr. Uriel Reichman, President of the University.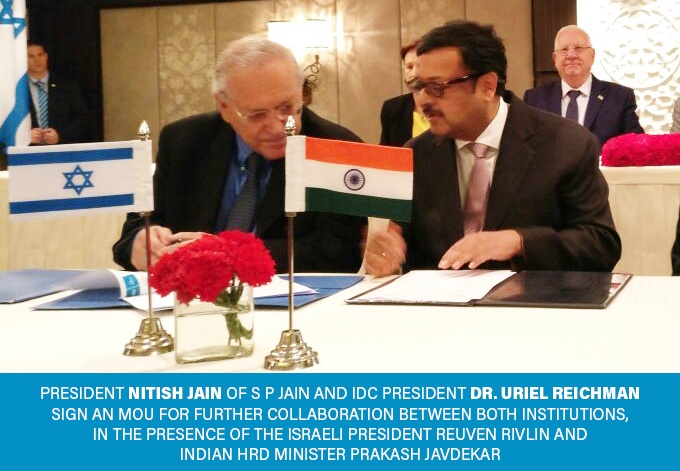 Speaking at the occasion, Mr. Reuven Rivlin, the Honorable President of Israel, remarked that the evolving partnerships between leading academic institutions of the two countries will help in their shared goals of academic excellence and development.
Mr. Prakash Javdekar, Honorable Minster for HRD, Government of India, said, "I am pleased to note that S P Jain and IDC, two leading institutions from India and Israel, have come together to encourage internation cooperation and exchange of knowledge and best practices amongst our two countries. I am certain that this partnership will be immensely beneficial for both our countries, as well as these institutions."
Mr. Nitish Jain, President of SP Jain added, "We are confident that our students will learn the very latest in Cybersecurity, including tools and techniques to counter threats posed by the fast-evolving world of cyberterrorism. Companies and governments, not just in India but across the world, need professionals with expertise in this domain, and it is our goal to provide them with the best talent."
Professor Uriel Reichman, President of IDC shared, "IDC is the leading private university in Israel and our International Institute for Counter Terrorism is well recognised globally. Our partnership with S P Jain will give great impetus to the globalization of our offerings as well as provide practical and academic insights in combating international terrorism."
About SP Jain School of High Technology:
SP Jain School of High Technology offers in-depth specialist training, enabling students to sense how Emerging Technologies create or enable new business models, reshape the economy and the way businesses operate. SP Jain School of High Technology offers a suite of certification courses in the field of emerging technologies such as Virtual Reality, Machine Learning and Cyber Security.
Starting in January 2017, these courses are designed to develop emerging technology experts who are able to apply the latest technologies and strategies to create cutting-edge solutions and solve complex business problems. SPJ-HT is an affiliate of the highly ranked SP Jain School of Global Management.
About IDC Herzliya:
Founded by renowned Israeli Professor Uriel Reichman in 1994, IDC Herzliya is a non-profit organization modeled after Ivy League universities in the U.S. In the twenty years since its establishment, IDC Herzliya's success has drawn both international recognition and some of the finest lecturers and researchers from around the world
In 2014 the IDC Herzliya was ranked the most successful academic start-up institution in Israel and outside of the United States, ranking 1st in Israel and 21st in the world.