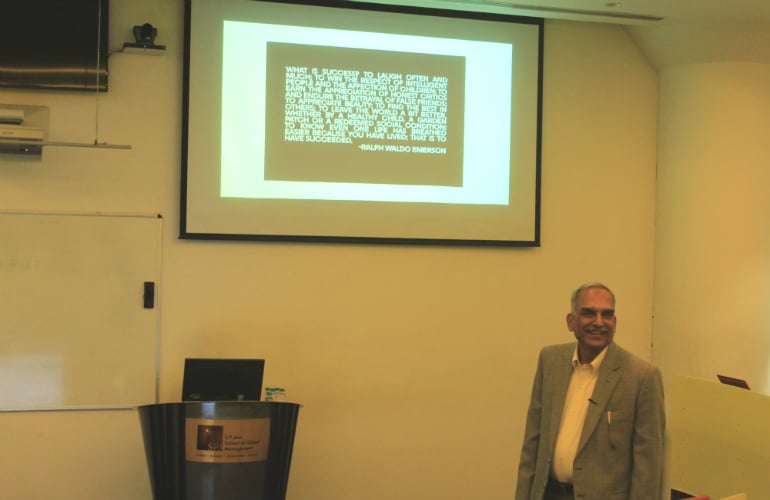 Dhanushkodi Sivanandhan, Mumbai's former Police Commissioner, hosts a session for SP Jain's BBA students
Dhanushkodi Sivanandhan, Mumbai's former Police Commissioner, hosts a session for SP Jain's BBA students
SP Jain School of Global Management's Bachelor of Business Administration (BBA) students from the 2019 cohort attended an engaging session by Dhanushkodi Sivanandhan, Mumbai's former Police Commissioner, at the Mumbai campus on March 13, 2020. One of India's most reputed IPS officers, he was also an active member of the special task force in the National Security Council Secretariat.
The guest lecture was organised by Shrinivas Shikaripurkar (Adjunct Faculty, SP Jain) as part of BBA's Sustainability and Corporate Social Responsibility course. Mr Sivanandhan's valuable insights on the topic 'Fighting out of your mind' and his contribution to the society inspired the students to embrace new opportunities.
During the session, he shared experiences and highlights from his career with the police force. He motivated the students to focus on improving themselves by inculcating seven major factors that make one a better human being – vision, passion, courage, character, self-belief, competence and discipline. "Indeed, knowledge is free, but ignorance is what we pay for," he said.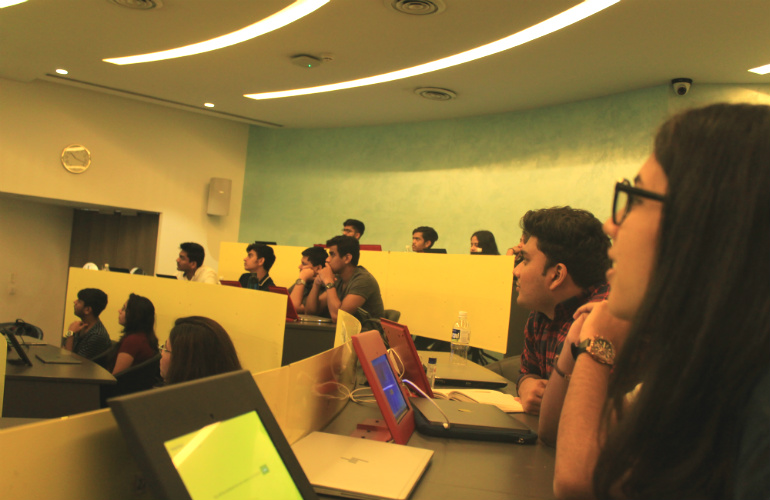 Dhanushkodi Sivanandhan, Mumbai's former Police Commissioner, hosts a session for SP Jain's BBA
Continuing the conversation around CSR, Mr Sivanandhan spoke about the Mumbai Roti Bank, a non-profit organisation that he has founded which bridges the gap between hunger and excess food. Mumbai Roti Bank collects leftovers from restaurants, clubs and parties in the city, stores it in vans and distributes it to the needy before the food gets stale. Encouraged by his initiative, many students are keen to intern at Roti Bank and serve the community.
He concluded his session with a powerful message for the students: "Do simple things but make it significant and life will start making sense."
The article has been written with inputs from Dheeraj Chaudhari (BBA'19 student and Student Council President 2019-20). Photo credits: Kavya Sangam (BBA'19 student).