Drive decisions, innovation and productivity
In an increasingly digital world, big data plays a very important role in driving decisions, innovation and productivity. SP Jain's Big Data & Analytics program enables students to develop a thorough understanding of big data analysis, rapidly adapt to the changing role of information sciences and bring creative solutions to tackle the challenges that arise in modern business.
The program incorporates a hands-on approach with emphasis on real-world problem-solving and extensive interaction with industry.


Please Note: Big Data & Analytics is an autonomous course, and not accredited by TEQSA or any accrediting body in India or overseas.


STUDY PART-TIME
OR FULL-TIME


CUTTING-EDGE
TOPICS

REAL-WORLD
PROJECTS


PROFESSIONAL
READINESS
Why SP Jain's Big Data & Analytics?
There is real value that can be extracted from analysing big data and as a data scientist you can help organisations:
Develop better strategies, improve operational efficiencies, reduce costs and mitigate risks
Enable the collection of more accurate and detailed performance information on products, services and therefore, expose variability and boost performance
Allow finer segmentation of customers and enable customisation of products and service
Make high volume of information usable at much higher frequencies
Help in the development of the next generation of products and services
Our certificate is designed to give graduates the best learning experience. Our h
ands-on program is the perfect blend of classroom and real-world learning, involving industry interaction, real-world projects and laboratory sessions.
Check your eligibility
You can apply for the Big Data & Analytics program if you have:
Undergraduate or postgraduate degree in Engineering, Mathematics, Physics, Statistics, B.Sc, B.Pharma, BBA, Economics or Commerce
0-5 years of full-time work experience (preferred)
Please note that minimum eligibility criteria may be waived for exceptionally qualified candidates.
Apply online
Submit your application online (free of cost).
Evaluation
All the candidates are required to appear for the SP Jain Program Aptitude Test (PAT). Students are advised to acquaint themselves with the basics of programming and statistics. They will be tested for both logical and analytical ability. See PAT Sample Paper for Big Data & Analytics.
Candidates will also be interviewed as part of the evaluation process.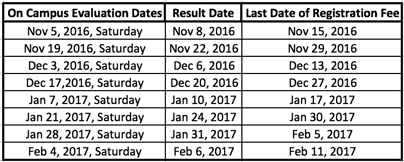 Results
S P Jain online PAT will start from Nov 6, 2016 and thereafter would be held scheduled every Sunday till Feb 5, 2017.
S P Jain online PAT process:
Online PAT on Sunday
Result declaration on Monday
Interviews on Tuesday and Wednesday
Result declaration on Wednesday EOD
Registration date will be 5th Day from the day of declaration of result
Fee Structure of the BDAP Program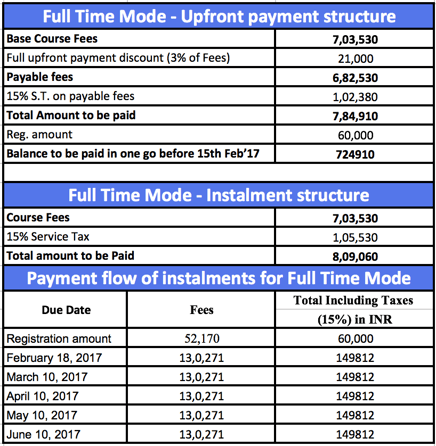 Admissions are open for BDAP Program for 2017 intake.

Part-time: Jan-2017 Full-time: Feb-2017