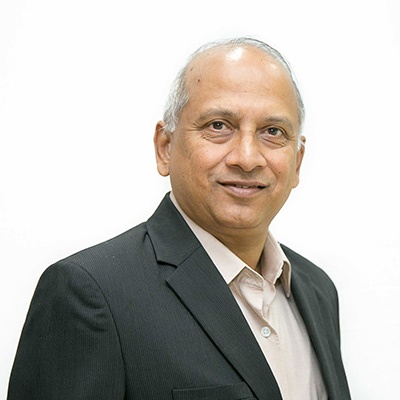 Professor & Head, Logistics
& Supply Chain Management
Education
Ph.D

, D.A. University, Indore India

Post Graduate Diploma in International Trade, Indian Institute of Foreign Trade, New Delhi, India

Bachelor of Engineering, University of Indore, Indore, India

Certified trainer on LINKS online Supply Chain Management Simulation of LINKS, USA

"Train the Trainer" Program by National Association of Freight & Logistics (NAFL) Dubai & FIATA
Subject Taught/ Student Project Mentor
Strategic Sourcing
Transportation Management
Supply Chain Management
Law & Best Practices
Academic experience
Faculty, Manipal Academy of Higher Education, Dubai (2005-2007)
Associate Professor, International Institute of Foreign Trade and Research, Indore, India (2000-2005)
Corporate experience
Industry experience of 20 years in the area of Logistics, Marketing and Operations in India and the Middle East. Responsibilities included global tendering, techno-commercial discussions, negotiations, order finalization and execution, including transportation, warehousing, customs clearance for imports as well as exports, coordinating with third party logistics operators, transporters, shipping lines, airlines and banks
Manager (Marketing), Dee Tee Industries Ltd Indore (1986-1991)
Sales Engineer, SBNAH, Muscat, Oman (1985-1986)
Deputy Manager (Exports), Kirloskar Pneumatics Ltd, Pune (1981-1985)
Consulting experience
Exports & Logistics Consultant, Supreme Rolls & Shears Pvt Ltd, Indore, India (2002-2004)
Supply Chain & Logistics Consultant, ITL Industries Ltd, Indore (1994-1998)
Quality Consultant, Jordan Pipe Manufacturing Ltd, Amman, Jordan (1995-1996)
Marketing Consultant, Data M, Germany (1994-1995)
Research & publications
Aserkar R., Verma S. (2018). Research paper titled "Quality Issues in Indian e-Commerce Delivery Model from Viewpoint of Young People". Published in International Journal of Logistics, Economics and Globalization in June 2018.
Seetharaman A., Sarvanan A., Kumar K., Niranjan I., Aserkar R., Anh N. ( 2017). Research paper titled " A Study on The Impact of Management of Cost, Service and Compliance in Cross Border Logistics and Supply Chain" published in International Journal of Academic Research [ISSN: 2075-4124] Vol. 5. Issue 1. & pp.289-317 , 2017. Listed in ISI Thomson.
Bhushan U., Aserkar R., Kumar K., Seetharaman A., (2017). Research paper titled "Effectiveness of Just in Time Manufacturing Practices". Published in International Journal of Business Management and Economic Research, Volume 8, Issue 6. Listed in Cabell's .
Aserkar R., Seetharaman A, Chu JA, Jadhav V, Inamdar S (2017). Research paper titled "Impact of Personal Data Protection (PDP) regulations on Operations Flow" published in March 2017 issue of Human Systems Management Journal, impact factor 0.55.
Aserkar R. Kumthekar N., Inamdar S. (2017).Research paper titled "Training and Development Needs of Logistics & Supply Chain Professionals in South Asia". Published in January 2017 issue of International Journal of Shipping & Transport Logistics", an ISI journal with impact factor 1.64 in 2015.
Aserkar R., Kumthekar N., Aserkar S. (2014) research paper titled "Investigating the link between Supply Chain Performance and Brand Performance" published in Vol. 4, No. 9; July 2014 issue of International Journal of Humanities and Social Science.
Aserkar Rajiv (2013) research paper titled "Learning Through Industry Interface Projects" published in INFORMS Transactions on Education for their special issue on Student Projects with Industry in February 2013.
Kumthekar N., Aserkar R. (2012) "Study of Current Software Trends of Logistics Service Providers With Feasibility of Cloud Computing As An Alternative", Skyline Business Journal, Volume VII-Issue 1 – 2011-12.
Aserkar Rajiv, (2004) 'Indian Ports: Gateways to Economic Development', Foreign Trade Review, October-December 2004 issue.
Conference papers presented
Aserkar Rajiv (2016) "Making Sourcing Decisions Through Total Landed Cost Exercise" presented in International Purchasing & Supply Education & Research Association (IPSERA 2017) conference held in Budapest, Hungary from 9th April to 12th April 2017.
Aserkar Rajiv, Kumthekar Nihar, Inamdar Shivani (2015) "Study of Training and Development Needs of Logistics and Supply Chain Professionals in Asia" presented at Global Logistics and Supply Chain Conference, GSCM 2015 at Hangzhou in China in March 2015.
Chaired the 'Oil & Gas Procurement Leaders Forum Asia' in Singapore on 8th October 2014. This event was targeted to promote, engage and educate procurement leaders in the oil and gas industry. Also led the panel discussions on "How to enhance supplier diversity to build supply chain value".
Chaired the session on Operations Management and presented a paper titled "Supply Chain Disruptions and Mitigation Strategies" in the Emerging Markets Conference organized by International Management Research Academy, London, UK in May 2012.
Invited to join the panel to discuss "Forecasting Challenges in Retail Sector" organized by Supply Chain Logistics Group (SCLG) as a part of their Strategy Meet in May 2012 in Dubai.
Invited to speak at Economic Workshop organized by Dubai International Financial Centre on "Logistics Performance Index- UAE & the GCC" in June 2010.
Aserkar Rajiv (2010) 'Reconfiguring distribution channels for efficient supply chains' presented at International Conference on Logistics and Transportation being hosted by Thai Researcher's Association and Lincoln University, Canterbury, in Queenstown New Zealand from 16th to 18th December 2010.
Aserkar Rajiv (2009) 'Bridging the skill set gap of Supply Chain professionals in the Middle East' presented at The Logistics Research Network Annual Conference 2009 in Cardiff, England.
Aserkar Rajiv (2008) 'Reducing your carbon footprint-Best practices in green supply chain management' presented at International Supply Chain and Cargo Summit, Dubai, November 2008.
Aserkar Rajiv (2006) 'Supply Chain Challenges in the new global order- An Indian Perspective' presented at International Conference at Indian Institute of Management, Indore, India, December 2006.
Aserkar Rajiv (2005) 'A Case Study of Indian Experience with E-Commerce in Agricultural Sector' presented at International Conference on Operations and Supply Chain Management, Bali, Indonesia, December 2005.
Aserkar Rajiv (2003) 'New Investments in Indian Logistics Sector' presented at Transport and Logistics India Conference, Mumbai, June 2003.
Books Published
Aserkar Rajiv, Paul Justin (2008) 'Export Import Management', Oxford University Press, New Delhi.
Aserkar Rajiv (2007), 'Logistics in International Business', 2nd edition, Shroff Publishers & Distributors, Mumbai.
Editorial & reviewer activities
Invited to review research paper on Retail Supply Chains by International Journal of Logistics Management in January 2013.
Member of the panel of judges for Supply Chain Asia Logistics Awards 2009 & 2010, Hong Kong.
Reviewer in International Conference on Operations and Supply Chain Management organized by ITS, Indonesia.
Conferences & workshops
Annual Supply Chain Conclaves in Singapore, Dubai, Sydney and Mumbai campuses of S P Jain School of Global Management
Awards & recognition
Recipient of prestigious Supply Chain & Transportation Award (SCATA) under the category Education and Training Provider of the year 2009 for S.P. Jain Center of Management. This award is the ultimate celebration of the Middle East logistics industry's achievements over the past 12 months.
Memberships
Singapore Logistics Association
Panel of Judges, Supply Chain Asia Logistics Awards, Hong Kong (2009 & 2010)
Supply Chain Logistics Group, Dubai
Media Appearances & Coverage
Telecast of Supply Chain Conclave 2018 at S P Jain School of Management, Mumbai on ET Now on Saturday, 18th August 2019
Interviewed by The Economic Times dated July 30, 2018