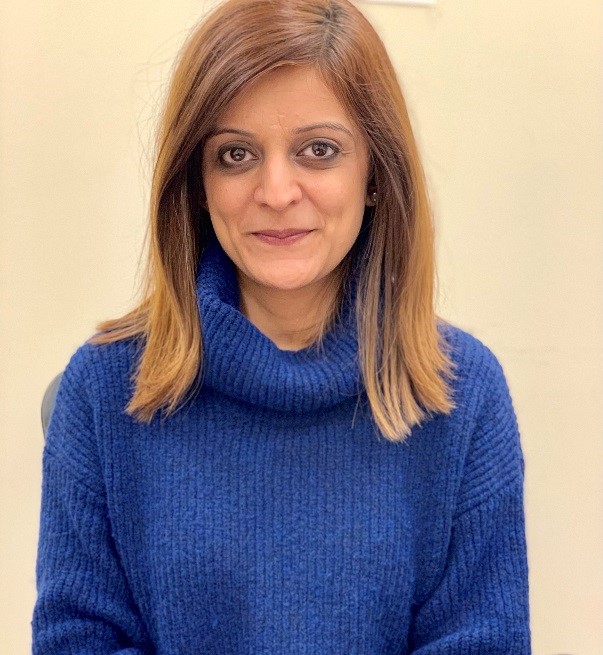 Director of Counseling and Coaching Center
Education
PhD in International Psychology special focus on Organizations and Systems- The Chicago School of Professional Psychology, Chicago, IL, USA 2018- 2021 (expected)
Field Experience in Ghana – December 2018: Worked closely with 4 different organizations in Ghana understanding, strategizing, and assisting in organizational mental health related processes.
Master of Arts in Clinical Psychology with Counseling Specialization The Chicago School of Professional Psychology, Chicago, IL, USA 2007- 2009
Bachelors of Arts in Psychology University of Mumbai (India), 2001- 2006
Subject Taught/ Student Project Mentor
Emotional Intelligence- Undergraduate Course
Mentoring Regional Research Projects- Undergraduate
Academic experience SP Jain School of Global Management
Taught full credit Emotional Intelligence Course as a part of the Employability and Practioner Skills Series for the Undergraduate Program with very positive student feedback each year (Every Fall Semester).
Mentored Regional Research Projects of Undergraduate students as a part of their core coursework.
Corporate experience
Global Director - Counseling and Coaching Center (Dec 2012- Current) SP Jain School of Global Management Dubai, UAE

Spearheaded the development and implementation of individual/ group counseling services and career guidance.
Led monthly counseling staff meetings across campuses (Dubai, Sydney, Singapore, Mumbai).
Mentored students for personal, professional, academic success
Provided effective crisis intervention services during emergency situations & developed intervention strategies for "At- Risk" students.
Conducted personality development workshops.
Assessed and evaluated students based on appropriate use of psychometric tools.
Developed counseling related policies across campuses for effective interventions.
Involved in design and execution of SP Jain's esteemed program- Passport to Excellence (P2E) to train students to be "interview- ready".
Initiated and led the Culture, Coffee, and Conversations (C3) Program to facilitate cross- cultural exchange among students and empowered students to facilitate the same.
Designed and implemented the Peer Mentorship and Counseling Program to train student peer mentors.
Co- founder- Centre of Excellence for Happiness: Developed Academic and Corporate Positive Psychology and Happiness Programs and conducted trainings and workshops incorporating the Science of Happiness and Positive Psychology principles.

Senior Counselor & Psychologist (Sept 2012 – Dec 2012) Inner Space Counseling and Assessment Mumbai, India

Marriage Counseling and Couples Therapy
Individual/ Family Counseling
Psychometric Testing and Assessments
Basic Counseling Skills included- Cognitive- Behavioral Therapy, Client- Centered
Therapy, Mindfulness & Positive Psychology

Consulting Clinical Counselor (Dec 2009- Sept 2012) Private Practice Mumbai, India

Provided counseling services to individuals of all age groups.
Individual/ Family Counseling
Services included Psychotherapy, Career & Educational Guidance, Emotional, Pre-marital/ Marital Counseling, Stress and Anger Management, as well as Memory Enhancement Skills.

Intern Therapist (May 2008- June 2009) Apna Ghar Inc. (Our Home) South Asian Domestic Violence Shelter Chicago, USA

Provided multilingual counseling services to immigrant women and their children, who have been survivors of abuse and trauma
Provided collaborative case management services to the clients for assisting them with employment, housing, and social skills development
Provided translation services to the clients at courts
Conducted Domestic Violence Groups

Outreach:

Domestic Violence/ Women Empowerment training to Salon professionals, especially South- Asian as a part of the Salon Solutions program of Apna Ghar (Cut it Out program by the National Cosmetology Association).
Provided training in different Indian languages/ dialects.
Research Interests
Emotional Intelligence, Cultural Psychology, Positive Psychology, Mindfulness Based studies, Happiness and Wellbeing among students and employees, Happiness and Life Satisfaction as indicators of a nation's development.
Memberships
American Psychological Association (APA)
Middle East Psychological Association (MEPA)
Bombay Psychology Association (BPA)
Counseling Association of India (CAI)
Awards & Recognition
Published article in Khaleej Times about Student Expectations in University.
Featured in Gulf News for the "Letters of Love" Campaign as a part of the Centre of Excellence for Happiness at S P Jain.
Panelist at the Career Orientation Program by the GEMS School in Sharjah.
Received the "Mabrook" Award for outstanding performance.