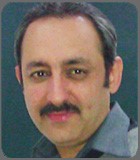 Senior Practicing Partner At Ppb & Co. A Ca Firm
Overview
Dr. Amit Bagga Is A Qualified Chartered Accountant From The Institute Of Chartered Accountants Of India And Cost Accountant From The Institute Of Cost And Works Accountants Of India. Additionally, He Is A Ph.D. From Ccs University India And Master's In Commerce University Of Delhi.
Education
Professional Qualifications

Institute Of Chartered Accountants Of India.
Qualified As Chartered Accountant In May 1998. India
Institute Of Cost And Works Accountants Of India.
Qualified As Cost Accountant In December 1995. India

Academic Background

Ph.D. In Commerce
Doctor Of Philosophy In Commerce Ccs University In April 2007. India,
Master Of Commerce
Completed Master Of Commerce From University Of Delhi, India, In May 2000.
Bachelor Of Commerce
Completed Bachelor Of Commerce (With Honours) From Sri Venkateshwara College University Of Delhi, India. Passed Out In May, 1992. Division Ist.
Subjects Taught/Student Project Mentor
Risk Management
Corporate Finance
Project Finance
Financial Planning.
Merger & Acquisition.
Management Of Financial Services
Capital Markets & Money Markets.
Management Accounting
Academic Experience
Conducting MDP's & Visiting Professor for the last more than 20 years
Corporate Experience
Actively involved in Derivative Strategies & Stock Market.
Overall monitoring and control of finance, accounts & taxation.
Actively involved in financial / project analysis, forecasting and financial management.
Ensuring compliance with Indian corporate laws, tax laws (direct & indirect) and other allied acts.
Filing of annual returns / statutory forms /withholding taxation/corporate taxation including advance tax including assessments and appeal proceedings with various statutory bodies.
Tax audit report
Research paper Titled "Study of IPO Wealth Creators or Destroyers: An Indian Perspective was published at International Conference and Business Management in University of Wollongong Dubai
Research paper Titled "Developing Derivative Strategies based on Technical Analysis was presented & published at Guru Nanak Institute of management in National Conference on Global Economic Scenario Threats & Opportunities for Corporate World
Research paper Titled "Greek Premonition: A Story of Crisis" was presented & published in national Case study competition held at Bharti Vidhya Peeth
Paper presented at Bharti Vidhya Peeth University Title (IPO evaluation a reality check) awarded with 2nd Prize all over India.
Research Paper on Micro Finance Institutions presented at National conference conducted by JIMS.
Articles on Financial Derivatives – Financial Journal" Need The Dough".
Article on Cost Accounting methods – Financial Journal "Need The Dough".
Research Interests
Risk Management, Security analysis & portfolio management
Conference Presentations
MDP conducted at HERBAL LIFE, HYDERABAD
MDP conducted at NIFM
MDP conducted at HUDCO
MDP at Mansukh Securities Pvt. Ltd.
Memberships
Fellow Member at INSTITUTE OF CHARTERED ACCOUNTANTS OF INDIA.
Awards & Recognition
Best Faculty Award at BMU University (Hero Group)
S.P. Jain college 9+ FEEDBACK