SP Jain School of Global Management, a Forbes #12 ranked business school, announced the successful placements for its Bachelor of Business Administration (BBA) students – the Class of 2022.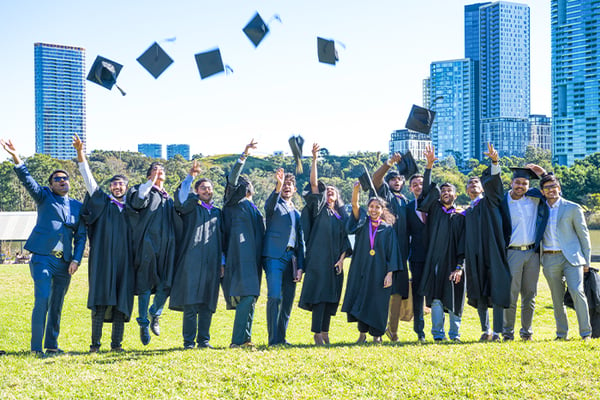 The graduating class has achieved an impressive milestone, with students securing job offers across nine countries: Australia, India, Indonesia, Philippines, Singapore, South Korea, Thailand, UAE, and the USA. Australia emerged as the top international destination, with 45% of the graduates who secured jobs opting to stay in Australia after completing their degree.
Top recruiters this season include global companies such as Deloitte, Ernst & Young, PricewaterhouseCoopers, KPMG, Australian Marketing Institute, State Bank of India, ClickedOn, Dell Technologies, and British American Tobacco. The marketing, finance, sales and business development fields accounted for a majority of the overall offers. The average starting salaries for this latest class range from AUD 55,000 to AUD 65,000 per annum.
Speaking of the success of the Class of 2022, Dr Vaidyanathan Jayaraman, Dean – Undergraduate Programs at SP Jain, said, "I am immensely proud of our BBA 2022 graduates for their remarkable achievements in securing job offers at top global companies across nine countries. Their success is a testament to the high-quality education and comprehensive global learning that we provide through our multi-city model. By living, studying, and interning in leading business cities such as Singapore, Mumbai, Dubai, and Sydney, our graduates have developed the necessary skills and knowledge to excel in today's global business landscape. The multi-city model of our program has equipped them with cross-cultural communication skills, the ability to work effectively in diverse teams, and a deep understanding of international business practices. We have no doubt that they will continue to make a significant impact in their respective industries, and we are thrilled to have played a role in their success."
"Being able to spend four years of my bachelor's degree in four different cities – Mumbai, Dubai, Madrid (on an exchange partnership), and Sydney was very conducive to my personal development. The exposure to other cultures gave me the space to explore things I wouldn't have otherwise – I ended up learning from legislators working with the EU during my exchange at IE, for example. SP Jain gave me a platform to start Girl Up Sydney, which culminated with me being invited to share my fundraising experience at the United Nations, and I'll always be grateful to have had the opportunity to go beyond my comfort zone at each step. Working in management consulting requires a certain level of comfort with ambiguity & an appreciation for variety – both of which I developed as a result of the dynamic nature of my BBA degree," shared Pooja Agrawal from the Class of 2022. On completing her BBA program last year, Pooja started working as a consultant with Levant Consulting, Australia.
The successful placements for SP Jain's BBA Class of 2022 have been featured in publications like The Hindu, Careers360, Education World, Skill Outlook, and India Education Diary.
The BBA is a 4-year multi-city program accredited by Australia's Tertiary Education Quality & Standards Agency (TEQSA). Students travel to Singapore/Mumbai for Year 1 of the program, Dubai for Year 2 and Sydney for Years 3 and 4, graduating with an Australian degree. On completing the program, students may be able to continue to live and work in Australia by applying for a post-study work visa of up to two years*.
SP Jain launched the BBA program in 2010 and has since attracted students and faculty from around the world. The latest graduating class includes students from countries such as Bolivia, Dominican Republic, the Philippines, Guatemala, India, Indonesia, Japan, South Korea, Kazakhstan, Malaysia, Spain, Mexico, Mauritius, Thailand, Ukraine, Uzbekistan, and Vietnam.
For more information on the program and admission requirements, please click here.


*International students may be able to continue to live and work in Australia temporarily following the completion of their Bachelor of Business Administration degree at SP Jain. While graduating students can apply for a post-study work visa of up to two years per the current immigration guidelines, it is not a guaranteed program outcome. Please check the Australian Government's Department of Home Affairs website regularly for eligibility, more information and updates.