Interactions with the industry experts has become a notable means of honing our students' skills and knowledge in the luxury ecosystem. Abiding by our weekly rituals of the conversation series, on 14th July, 2017, the MGLuxM students had the noble opportunity of reaping expert advices from a panel comprising of:
Beejal Desai (Vice President – Legal & Company Secretary, Taj Hotels Palaces Resorts Safaris)
Shilpa Agarwal (Boutique Manager, Christian Louboutin)
Shabia Ravi Walia (Founder and Owner of 'Wild Earth', Media professional for the past 24 years)
Dr. Ruchi Agrawal (MD DNB DDV; Owns and runs a state of the art skin laser and hair centre in Mumbai)
Rekha Chaudhari (Spa and Wellness Industry expert since the past 22 years)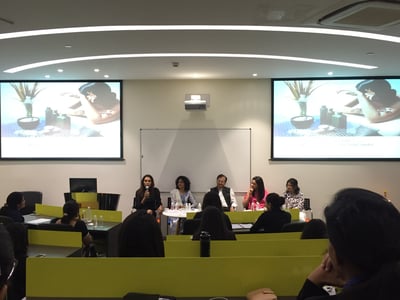 The panelists had a lot to share with the students from their glorious journeys to success stories and inspirational anecdotes. Interestingly, they all had a common thread to their blooming careers; the concept of sustainability in luxury. With major brands endorsing the concept of sustainability, the panelists threw light on how sustainable development should be nurtured to ensure and propagate a thriving economy. Rural workforce, along with their education, training and employment along with the concept of giving back to society and making donations for their upliftment, there is an honour in being magnanimous. It is often said that successful people are always looking for opportunities to help others; the students envisioned it themselves by hearing from the experts and being inspired to work on creating and adding value – both monetary and moral.