The Centre for Policy Development & Analysis, Ministry of Foreign Affairs, Republic of Indonesia was on a field trip to India to understand the Indian perspective on this grouping of nations. They visited the Mumbai campus of the SP Jain School of Global Management to discuss and share ideas on the future of the IORA.
The Indian Ocean Rim Association (IORA) is an international organisation consisting of 21 coastal states bordering the Indian Ocean. These 21 countries include Australia, India, Iran, Indonesia, and Singapore, among others. It brings together representatives of Government, Business and Academia, for promoting co-operation and closer interaction among them. Indonesia currently holds the chairpersonship for the IORA.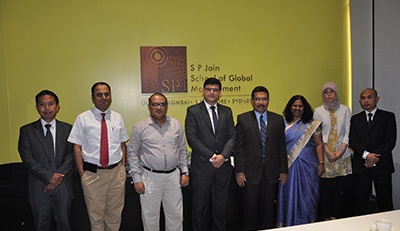 Acknowledging India's efforts to enhance economic cooperation with IORA member countries, the Centre for Policy Development and Analysis was keen to know the perspective of India's stakeholders on the possibility of establishing an IORA-Comprehensive Economic Partnership Agreement. During the meeting, some key questions that were discussed were:
SP Jain's opinion about the current IORA cooperation and its prospect in the next 5 years.
How does SP Jain see IORA's role in enhancing economic cooperation among member countries?
Has IORA managed to provide an effective mechanism for the business community to enhance regional cooperation?
What kind of cooperation should IORA envisage with respect to academic and entrepreneurial collaboration?
As a globally minded business school, we at SP Jain shared our knowledge and perspective on how learning and education could be used as a vehicle to fuel economic growth across the member countries.