The Conversation Series acts as a constant and progressive learning experience for all the MGLuxM students. The series helps widen their insights and bridge the gap between their academic learnings and industry exposure, managing to successfully engage the students into a practical and realistic goal setting and thinking.

The students of MGLuxM (Intake of April 2017) recently attended their last session of the Conversation Series for their Term 1 in Mumbai. The panel was graced by industry experts like Sachin Jain (M.D. – Forever Mark), Nandita Ganesh (Visual Merchandiser – D'décor), and Akash Chandravanshi (Visual Merchandiser – LVMH).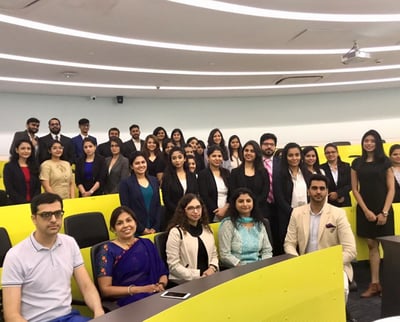 The panel impressed upon the luxury enthusiasts their creative design techniques and models, also sharing their real-time work experiences with the students. The session discussed the basic functionality and approach of luxury brands and their essence, and how they are brought across visually to entice the audience. The importance of various events and fashion weeks across nations was also highlighted along with the purpose of moulding the brand with unique and luxurious collaborations.

With the Conversation Series for Term 1 coming to an end, the series truly gave every student a realistic insight into the management of luxury and has made them closer than ever to their fantasy.