To help the BBA Jags better understand how Indian corporate houses address the triple bottom line issue through their CSR initiatives, they were taken to a NGO managed village to experience the village settings in the outskirts of Mumbai city on the 25th of March. This visit was arranged to gain a practical understanding as part of the SCSR subject.
The village is part of an independent, international NGO that has been working to meet the needs and protect the interests and rights of children since 1949. It was founded by Hermann Gmeiner in Imst, Austria. According to the Financial Times, this association has been ranked 33rd out of 100 global NGOs for "global accountability".
The BBA Jags were in for a pleasant surprise as they boarded a Water Bus (Ferry) to get to the village located across the coast on Mumbai's water front. On reaching the venue, they met with the village kids of different age groups
The Jags presented 10-minute skits to the children to convey a social message. The village kids were enthralled over the next 60 minutes by various innovative performances. One of the challenges that the cohort had to tackle was the use of language, since most of the kids were not fluent in English. They also covered various themes ranging from the importance of trees to Health & Sanitation issues. The best performing team was awarded with the best CSR presentation trophy.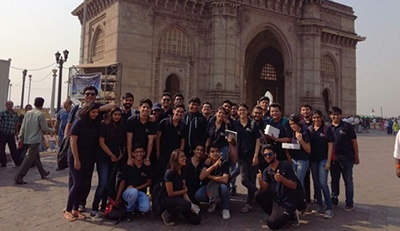 BBA Jags are all raring to go for this unique visit to the NGO village!!
The Jags then indulged in some football with the village children during the post lunch period.
The children in the International NGO village were so sweet, warm and welcoming! What the Corporate House is doing for the children there to ensure their safety and happiness is truly commendable. -Prachi Kekre, BBA
The visit to the International NGO village was an eye opener. It broke all the stereotypes of child care. There was always a pleasant and lively ambiance and the children were rather very outgoing and interactive. The International NGO village is an inspiration to childcare all around the world! – Godrej was an eye opener in how CSR can be such an integral part of an organisation's operations. – Abhiram, BBA