Students must have completed high school/secondary school/junior college or some equivalent form of secondary education and placed in the top 25% of their class. Students are shortlisted on the basis of their Year 10 or most recent Board exam (taken in the past 2 years) and
SP Jain Entrance Test
(SPJET) or SAT score.
INDIAN APPLICANTS
All India Senior School Certification Examination (CBSE), India School Certificate (ISC) Year 12 exam, or Higher Secondary Certificate (HSC) from the Indian State Boards: minimum score of 70%
International Baccalaureate Diploma: minimum score of 30 points (from at least six subjects, with three at higher level)
AUSTRALIAN APPLICANTS
NSW Higher School Certificate or its interstate equivalent: minimum ATAR of 85
International Baccalaureate Diploma: minimum score of 32 points (from at least six subjects, with three at higher level)
Completion of an approved course at the level of Certificate IV taken at a registered provider of technical and vocational education in NSW or its interstate equivalent
Possession of qualifications deemed equivalent to either of the above three points
INTERNATIONAL APPLICANTS
International Baccalaureate Diploma: minimum score of 32 points (from at least six subjects, with three at higher level)
A Levels: minimum of grades B, B, B in 3 Advanced level subjects in the same sitting
ENGLISH LANGUAGE PROFICIENCY
All students are expected to demonstrate an acceptable proficiency in English. This is assessed during the evaluations. Students who have not been educated in English must have acceptable English language scores:
IELTS overall score of 6, with no band less than 5.5

TOEFL iBT score of 60 overall, with no band less than 20

PTE score of 50, with no band less than 45
The application can be submitted online at no cost.
A student needs to submit only one application. In fact, duplication of applications may lead to a student's form/admission being disqualified. It is not necessary to have Year 12 results in hand at the time of application. In case the Year 12 results are not in hand, selected students will be offered conditional admission to the program.
Students need to take either the SAT or the
SP Jain Entrance Test
(SPJET). The minimum entrance test score required is:
SAT score of 1250
SPJET score in the 70th percentile
It is rare for SP Jain to admit students with lower scores, but we do consider all factors including academic performance and extracurricular achievements.
The admissions team shortlists applications based on past academic performance, entrance test scores, English language proficiency and other achievements.
If your application has been shortlisted, you will be called for further evaluation at one of our campuses or via Skype.
Shortlisted students are required to pay an EVALUATION FEE OF USD 55 before requesting for an evaluation date.
You will be emailed an admission decision approximately a week after the evaluation.
PROGRAM FEE*: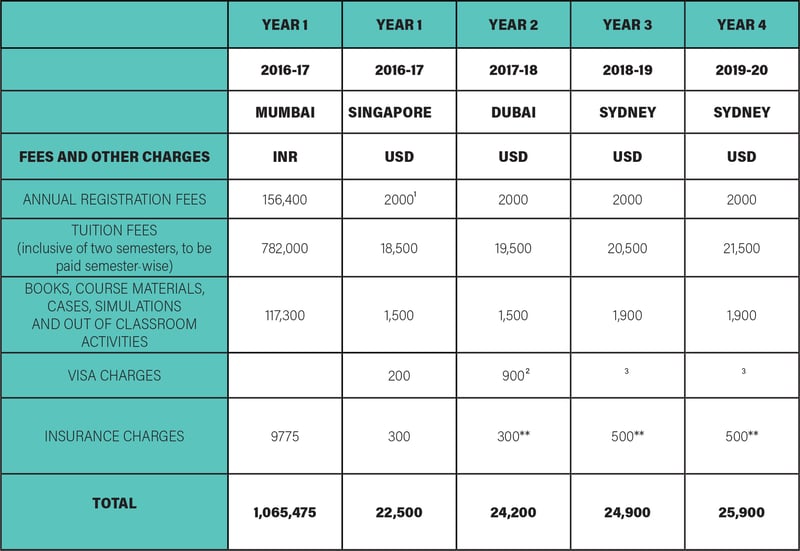 *Fees indicated above are for 2016. Fees payable for the January and September 2017 intakes may wary.

ACCOMMODATION FEE:

ANNUAL REGISTRATION FEES
1 Students accepting the offer by January 31, 2016 would be given a rebate of USD 1000. The rebate is for the Academic year 2016-17 only.
VISAS
2 On completion of year 2 in Dubai, the visa would need to be cancelled. The visa charge covers the cancellation charge.
3 Australia visa - Students would be personally responsible for obtaining the visa. S P Jain would facilitate and assist with all the documentation. Visa fees would be paid by students as applicable.

Students are required to demonstrate sufficient financial resources to cover their expenses towards tuition fees, living, travel and/or any other personal expenses. We recommend that students familiarize themselves of the visa requirements to ensure their eligibility for issuance of a student visa.

Full details on student visas for Australia are available on https://www.border.gov.au/Trav/Stud.

Visas for Dubai and Singapore would be processed by S P Jain on receipt of all fees.
INSURANCE
**Figures mentioned are indicative for Dubai and Sydney. Actual figures would be billed at the commencement of each year.
NOTES
Registration fees are payable each year along with the first semester fees for the year.

Registration fees are taken every year to meet various administrative costs like subscriptions, software, internet, database management, learning management systems, etc. This is an annual cost and cannot be prorated.

The tuition fees are to be paid in 2 installments - 50% per semester.

All other fees are to be paid prior to the commencement of the course/academic year.

Fees are payable at S P Jain's Dubai campus.

All airfares would be borne additionally by students